The optometric technician is motivated by helping others and making a difference.
University Eye Center optometric technician Kali Berrios says she "fell into" the field. A fresh out of high school student on her way to the College of New Rochelle, the Bronx native became an eyewear consultant at LensCrafters in 1999. It was not meant to be a career, just a job. She says it became a career because she stayed at LensCrafters for 15 years, working as a sales supervisor for 13 of them. One day, a little boy walked in the door and Ms. Berrios went from having a career to having a calling.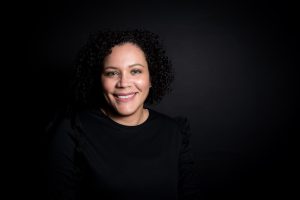 "[LensCrafters] had a program called Gift of Sight, for people who were in need of eyewear and couldn't afford it. There was this little boy, Leon, who was six or seven. He and his mom had been in a bad situation, which she had to escape, only taking what she could grab when they left. That didn't include his glasses," Ms. Berrios remembers. She helped him get new glasses through the Gift of Sight Program. "When he came to pick them up, he gave me a big hug and wrote me a little note [of thanks]. It touched me so much."
Getting glasses for Leon was life changing for the little boy and for Ms. Berrios. She calls it the defining experience of knowing she had to work in optometry. In 2014, she moved into a position at SUNY Optometry's University Eye Center.
As an optometric technician, Ms. Berrios assists patients with insertions and removals for contact and prosthetic lenses. She also handles insurance issues that arise and manages to keep things calm in an office that has several clinics running throughout the day, with interns, doctors, students and patients moving through the space. Not surprisingly, good time management is her solution for getting it done—and staying focused is her greatest challenge. "It's fun, though, because it keeps you on your toes," says Ms. Berrios of the controlled chaos of the office. "When I'm here, I have fun, I get it done. When I go home, it's home. And then come Monday, I'm refreshed and ready to start again."
More than the weekends, helping others is what fuels Ms. Berrios. "A lot of our patients have serious visual issues and can't see. To know that you helped someone and now they can actually go to work, or get a driver's license…that is rewarding," she says. "That feels good."
While she thrives on knowing that each day she is in the office she is helping to improve lives, Ms. Berrios has not forgotten the person who gave her professional purpose. "I still think about Leon. He would be about 18 now," she says. "I hope things really did work out for him and his mother."