Every day offers the referral service coordinator new and different ways to help University Eye Center patients.
Lorena Maldonado unintentionally found her professional destiny when she was just nine years old.
"I had just moved to New York from Ecuador, and my mom took me to the doctor," she recalls. "I saw the person at the front desk and thought, wow, that career is great, you get to help people." Ms. Maldonado knew then: She also wanted to help people as they received medical care. After graduating from Manhattan's Baruch College, she began working toward that goal.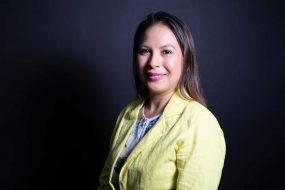 Ms. Maldonado has been helping patients at the University Eye Center (UEC) since 2012. "During my job interview, it seemed like the perfect place for me to work. So I let them know I didn't have health care experience, but emphasized what a hard worker I am," says Ms. Maldonado, who was a first-time mother to a five-month old when she was hired. Initially, she worked as a front desk assistant, using her fluency in Spanish to greet and assist patients in two languages.
Once, a mother was having difficulty getting her insurance plan to cover lenses needed for her young child. "I could identify because I have children," says Ms. Maldonado, who did more than empathize—she strategized. "I went back and forth with the insurance provider and even though it took awhile, I was able to get the approval for her." The mother showed up with cookies to show her appreciation and Ms. Maldonado was both thankful and confused. "I thought, what did I do? It was just a part of my job," she says.
That dedication to patient satisfaction followed Ms. Maldonado when she moved, in 2014, to the referral services department. She started as an assistant, but was promoted to coordinator two years ago. The office handles all referrals from patients and providers, often acting as liaison between UEC doctors, patients and outside providers.
Referrals, which can be faxed, emailed, phoned or walked in, arrive 24 hours a day, seven days a week. Not surprisingly, Ms. Maldonado describes the pace of the office—and of her work day—as non-stop. Yet she appreciates it. "The only way to do great work is to love what you do," she says.
In her supervisory role, Ms. Maldonado has a clear vision of how her unit handles each day. "I believe it's not my staff, but ours. We are a team. My role is not to tell you what to do, but to ask, 'What can we do better?' To come up with ideas so we can all do better," she says.
The little girl who was wowed by the chance to have a professional role helping people did not imagine all the ways her current job would allow her to be of assistance. When referral paperwork is handled, Ms. Maldonado also does outreach services that extend UEC's reach. "Care for the Homeless treats a population that often doesn't think health care is for them. They're more focused on the essentials—like food—so health care may be the last thing on their mind," she says. "I remember giving coloring books to four kids in the waiting room. They hadn't had baths, didn't have a home to go to and this little thing from me, they just lit up from it. I was reminded that too often I don't look at and appreciate the many things life has given me."
Ms. Maldonado is currently using another lesson she learned at work to improve her own life. "We are so busy here, so I am now trying to take some time for me when I am not here," she says. "Meditating, remembering to always appreciate life."