She is clear that there is nothing old-fashioned about getting people in the right glasses.
For more than 25 years, Nancy Kirsch has been an integral part of SUNY Optometry's community. As director of the Essilor Eyewear Center, she oversees the division of the University Eye Center (UEC) that provides the most traditional of optometric care—getting people in the right pair of glasses—and accomplishes it in ways that are forward-thinking.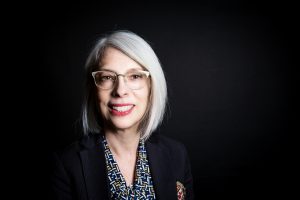 "You can't spit without hitting an optical store in New York City. What are you going to do to set yourself apart? How do you compete?" says Ms. Kirsch. "We dispense products that may not be carried in traditional optical stores."
For instance, there is a line of frames designed specifically for children with special needs. Promoting high tech products, like lenses and coatings that protect the eyes from blue light, allows Ms. Kirsch and her team to educate UEC patients while also educating the College's students.
Aside from the products it offers, the eyewear center has also incorporated other customer-focused services. A new one is flash sales, during which frames are available at deep discounts. Trunk shows give the College community and patients a chance to see the latest styles and frame designs.
In the near future, there will be a Center for Pediatric Eye Care, which will have its own eyewear center. Says Ms. Kirsch, "That will present exciting, new challenges for delivering eyewear to our kids in an innovative setting and enhance the patient experience."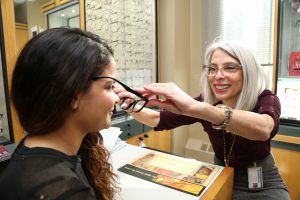 During her nearly three decades at SUNY Optometry, Ms. Kirsch has helped the eyewear center evolve as the industry directs the attention of students to other areas of specialization. "My greatest challenge has been trying to keep the interns interested in eyeglasses when the scope of optometry is expanding," she says. "Understandably, the students get really jazzed about ocular disease and diagnosing and treating. They sometimes view the practice of fitting eyeglasses as kind of old-fashioned and pedestrian. My message is that a huge chunk of their professional life will be speaking to patients about their prescriptions and eyewear, and it's critical to their knowledge base in order to be a well-rounded practitioner."
Ms. Kirsch's own journey began as an apprentice to an optician in upstate New York after graduating with a psychology degree from SUNY Binghamton. She enrolled as a student at New York City College of Technology to better understand the profession. Upon graduation with a degree in applied sciences and ophthalmic dispensing, she worked in optometry offices throughout New York City.
She came to SUNY Optometry as director of the eyewear center in 1990 and began to teach courses in 1998. Ms. Kirsch has worked with 28 graduating classes of optometry students and currently teaches an integrated optics course with an accompanying lab. "Our students are incredible—bright, accomplished, engaged and interested. Following their career trajectories has been inspiring," she says.
While the College and its community continue to benefit from her knowledge and experience, it is a two-way relationship for Ms. Kirsch. "I get to work with some of the smartest and most dedicated doctors there are and I learn something new every day."