After decades in the eye care industry, the clinic manager for advanced care services at the University Eye Center continues to change lives every day.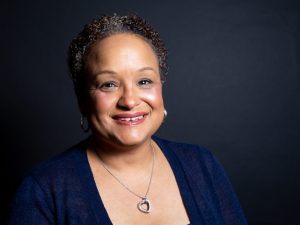 Patricia Lambert knew there was a place for her at SUNY Optometry. Which is why for years, when she would walk past the building on 42nd Street in midtown Manhattan, she'd tell whomever she was with, "I will work there one day."
That premonition came true in 2016 when she joined the University Eye Center (UEC) staff as clinic manager for advanced care services. In her position, the Brooklyn native is responsible for day-to-day operations of the Ocular Disease department, which includes assisting in the coordination of all fiscal operations for the office and streamlining front desk operations to increase efficiency.
It did not take long after beginning at the College for Lambert to learn that the rumors she'd heard were true. "SUNY Optometry is well known as a great place to work and I have found that it is," she says.
For Lambert, it was not enough to work at a great place, she wanted to help make it even greater. She was a member of the College's Diversity and Inclusion Master Plan committee and patients benefit from her work style every day. "Patients just really want to be heard," says Lambert. "They want to know you are actively listening. Also that you understand, you are empathetic to their issue and will do all you can to resolve it. I always put myself in their shoes, think about what I would want in the same situation and act accordingly. Then I always follow up."
In the two years since joining SUNY Optometry, Lambert has watched the school commit itself even more to improving the lives of its patients. "The biggest changes—and improvements—I've seen in my time here have happened on the clinic floors and the lobby," she says, adding that the SPACE | 42 gallery and open seating area on the sixth floor are "marvelous" ways to compliment the atmosphere of the College and University Eye Center.
Lambert has worked in the eye care industry for nearly three decades. In 1989, she began as a department manager for a Cohens Fashion Optical in New York City. That was followed by five years as a sales associate for Eye to Eye Vision Center, before returning to a management position at another Cohens location. In 2016, when Lambert left Cohens to head to SUNY Optometry, she was director of medical services, overseeing a multiple location billing department for the chain.
In addition to her dedication to eye care, Lambert makes the most of her time out of the office. "I love going to different festivals around the city, and old school concerts. I love the music, the food and the different types of people you meet."
In fact, it is interacting with strangers that also brings her satisfaction on the job. "I enjoy meeting new people, knowing we improve their lives. I can see the excitement in their eyes when a patient puts on a pair of glasses for the first time, or when they discover their glaucoma has stabilized," she says. "We make a difference."