The assistant manager in primary care knows what makes the College such a great place for patients: its dedicated faculty and staff.

Everyone has critics—and for SaQuan Herring, that critic was his nine-year-old daughter.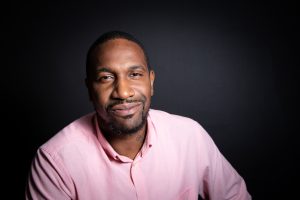 The assistant manager of the University Eye Center's (UEC) primary care service was at home working on a presentation for the September 2017 launch for Our Vision for Children, the College's campaign for a new pediatrics unit that will provide unsurpassed services to its youngest patients. "I was asked to speak as an employee who is also the parent of a patient," says Mr. Herring, whose daughter Aniyah has received care at the UEC since she was five years old. "Aniyah saw me writing my speech and asked if she could write her own."
His speech would become a father-daughter presentation during which Mr. Herring shared his hope that all of New York's children would be able to get the same quality of optometric care as his child. Aniyah told the audience, "I would love to see what the future holds for me. The only way I can see is if I take care of my eyes while I'm still little."
The presentation was a success—though Aniyah saw room for improvement. "She critiqued my speech and told me I could've done a better job," says Mr. Herring. "She advised me to follow her lead next time!"
Mr. Herring initially joined the UEC staff as a keyboard specialist and office assistant. Two years later, he moved into his current assistant manager role. He makes sure the primary care service runs smoothly and patients' needs are met during their visit.
While his responsibilities include a lot of paperwork—from timesheets to dealing with insurance coverage issues— Mr. Herring believes the best way to get things done is by getting out from behind his desk. "I spend a lot of time interacting with the patients and running around throughout the building trying to get things done in person when possible," he says. "It helps me create a better rapport with my colleagues, instead of sending emails to people I would only know by name and not by face."
Building these relationships has cemented his belief that some of the best things to happen at the College are not about eye care. "I've been here long enough to witness students graduate and become faculty, staff members climb the ladder and patients become friends," says Mr. Herring, who describes an institution that cherishes relationships and respects its people and patients.