Patient with TBI improves sight and outlook on life with help from her eye doctor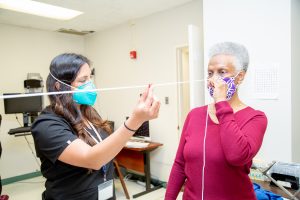 New York, NY—More than 25 years have passed since retired historian and college professor Mary Marshall, PhD, was a passenger in a car crash that changed the course of her life. "A friend had driven me to Branchburg Community College where I was the keynote speaker for the annual Paul Robeson Awards ceremony for local high school students. We arrived on the college campus and were headed to the parking lot. A folder containing my speech was on my lap," said New York City resident Marshall. "That's the last thing I remember."  
The accident resulted in a collapsed lung and months of rehabilitation, but her health issues didn't end there. Upon returning to the classroom to wish her students well on their finals, Marshall's students noticed that she had difficulty speaking and was continually blinking and squinting her eyes.  A further medical evaluation revealed she had abductor laryngeal dystonia causing spasms of the muscles of the voice box and blepharospasms of the eye, a condition that occurs when the part of the brain that controls the eyelid muscles stops working correctly. She was also diagnosed with glaucoma.  All of these problems were due to a traumatic brain injury (TBI). 
A TBI is caused by a bump, blow, or jolt to the head that disrupts the brain's normal function.  Each year an estimated 1.5 million (about 1 in 100) Americans sustain a TBI. Out of this number, approximately 1.1 million Americans with TBI may visit the eye doctor reporting significant changes to quality of life and requiring assistance with daily living activities. Studies indicate that 90% of TBI patients experience a vision problem caused by disruption of communication between the eyes and the brain or visual disturbance. 
"There is a wide variety of visual problems associated with traumatic brain injury—especially when the injury is diffuse, as is the case in a concussion," explained Rima Bakhru, OD, vision rehabilitation specialist and faculty member at SUNY College of Optometry University Eye Center. "The visual system takes up a huge percentage of brain matter and is spread through many different lobes as it travels from the eyes to the back of the brain and projects to other systems." 
Common TBI-related vision problems include double vision, headaches, fluctuating vision, comprehension and reading difficulties (words appear to move), and loss of place while reading, inability to maintain eye contact or focus, and reduction or loss of visual field, which may cause such problems as bumping into objects, being struck by approaching objects, or sudden falls. Sensitivity to light and general inability to tolerate glare are also reported and exacerbated by specific light sources, including LCD screens on computers and smart devices. During initial treatment of a brain injury, vision problems are often overlooked and may not present until months or more following the injury, as in Marshall's case.
"It wasn't until a few years after the accident that I had come to realize the full extent of my brain injury," explained Marshall. "I began to bump into people and things, lose memory and train of thought, and had difficulty reading due to double vision." Her neurologist at NYU Langone's Rusk Institute where she was receiving TBI therapy recommended that she seek help for her vision problem at the University Eye Center. "It was the best decision for me because I saw tremendous improvement in my eyesight. Once my vision was addressed, all of my other modalities—like balance issues—fell into place."
That was in 2004. Fast forward to 2015, and Marshall began to experience extreme pressure in her eyes due to advancing glaucoma. She was losing her vision and was given an eyeglass prescription that didn't help her double-vision. "I was told that nothing more could be done to correct the problem. It was unacceptable to me," said Marshall. "That's when I remembered the excellent care I received at the University Eye Center and made my return."
For people with TBI and related eye issues, vision therapy or rehabilitation can help alleviate symptoms and improves brain-eye communication.  Customized for the individual, a prescription for vision therapy consists of personalized exercises that include colored tints, lenses, prisms, filters, occluders (an object used to cover one eye while the other is being tested), and other equipment. The exercises aim to help patients develop visual skills and process information more effectively from the visual system. For homebound patients, the UEC offers teletherapy, including a software program called Binovi that provides instructions and videos for patients working primarily at home. The therapy utilizes compensatory (compensating for the problem) and rehabilitative (improving the actual problem) techniques. Length of treatment can be several weeks to months depending on the severity of vision issues and achieving therapy milestones.
"If indicated, we may also recommend neuro-optometric rehabilitation therapy – a specialized and highly personalized program of vision therapy. We can either prescribe such a program to be completed mostly at home with follow-ups every few months or in-office on a weekly or biweekly basis," said Bakhru. "We often coordinate care with other interdisciplinary specialists such as physical therapists, neurologists, social workers as needed. Brain injury is complex, and it takes a village to address all aspects fully." 
To date, Marshall has been undergoing weekly vision therapy at the UEC for six months and said the finish line is clearly in sight. "During the initial visit at the Center, Dr. Bakhru determined that the eyeglass prescription was incorrect, and she prescribed the right one. Because of her careful evaluation, I can see and read so much better," said Marshall. "Since working in therapy, my issue with double-vision has improved tremendously, and so has my outlook." 
An educator with expertise in African American studies, Marshall has resumed work on an oral and written account of her family history which requires searching, studying, and synthesizing hundreds of photos, letters, documents, and archives. It's a passion and focus unobstructed with better eyesight. "I am overjoyed about my progress and what I can do—my care at the Center has been excellent."
For more information about vision therapy and other specialized eye care services for adults and children at the University Eye Center, visit sunyopt.edu or call 212-928-4001. Referrals are also accepted and welcomed.
March 29, 2021
Organization contact: Adrienne Stoller, communications@sunyopt.edu, 212-938-5600
###
About SUNY Optometry
Founded in 1971 and located in New York City, the State University of New York College of Optometry is a leader in education, research, and patient care, offering the Doctor of Optometry degree as well as MS and PhD degrees in vision science. The College conducts a robust program of basic, translational, and clinical research and has 65 affiliated clinical training sites as well as an on-site clinic, the University Eye Center. SUNY Optometry is regionally accredited by the Commission on Higher Education of the Middle States Association of Colleges and Secondary Schools; its four-year professional degree program and residency programs are accredited by the Accreditation Council on Optometric Education of the American Optometric Association. All classrooms, research facilities and the University Eye Center, which is one of the largest optometric outpatient facilities in the nation, are located on 42nd Street in midtown Manhattan. To learn more about SUNY Optometry, visit www.sunyopt.edu.