From her work in ocular disease to molding the next generation of optometrists, this alumna turned assistant clinical professor thrives helping patients and students transform their lives.
As a girl, Dr. Daria Borah, '16 wanted to be a veterinarian. "At some point or another throughout my childhood years, my family had a cat, dog, bunny, ferrets and parakeets," she explains. But like many of her colleagues, her love of optometry started with a doctor's appointment.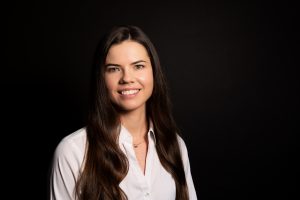 At 18, she'd just relocated to attend the University of Florida to study animal sciences and went to buy her first pair of soft contact lenses. "The optometrist was knowledgeable and explained the field very well, which intrigued me. I previously thought they had limited responsibilities of only fitting glasses and contacts," she explains. She soon found herself working in the doctor's office as an optometric technician.
"The more training I received, the more my enthusiasm for the profession grew. I was sold on the career," Dr. Borah says. "The visual system is used 100-percent of your day, from the moment you open your eyes to the moment you close them. It is possible to make life-changing decisions for patients of all ages."
After finishing her bachelor's degree, she set her sights on SUNY Optometry. "This is where the brightest, boldest and most successful students emerged based the reputation of the College, the review of its clinical curriculum and my impression during the interview," she says.
Dr. Borah, who was born in Moscow and moved to West Palm Beach, Florida, at the age of 10, also completed an ocular disease and primary care residency in the VA Boston Healthcare System after graduating from the College in 2016. "Ocular disease is complicated and intertwined with the patient's systemic health, and it forces the clinician to integrate the entirety of the patient as opposed to isolating and focusing on the eyeball alone," she says. "I find it to be a rewarding challenge of putting together puzzle pieces that in their final product, shed light on the complete picture of the patient's health."
Though she thrived in a group private practice, Dr. Borah found herself lured back to the College, where she has served as an assistant clinical professor since February 2018. "I enjoy the stimulating academic atmosphere and the opportunity to teach and further our profession, which I feel to be more personally rewarding," she says.
The feat of which Dr. Borah is most proud is that she forged a novel path for herself. "I branched out into a career field that no one in my family was involved in, and none of my close friends were interested in during college," she says. "I truly feel I made the best choice for myself, my career and my patients."