The new chief of primary care is excited to use her full toolbox at the College.
Dr. Diane Calderon-Villanueva, the University Eye Center's new chief of primary care, was drawn to optometry after she was paired to work with an undergraduate classmate with low vision.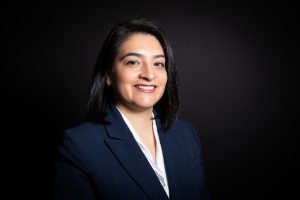 "I was intrigued by the devices and techniques he used to assist him to perform his daily activities," says the Queens native. "Once I started to research optometry and shadowed an optometrist, I was fascinated by how much one can actually help a person through a comprehensive eye exam. It isn't simply an evaluation of a person's refractive status. It encompasses binocularity, accommodative function, ocular and systemic health."
The wealth of information that a skilled optometrist may collect during an exam excites Dr. Calderon-Villanueva and propels her work. Unlike the specialty services, she says, primary care requires the daily utilization of a broad and diverse knowledge base to keep patients seeing well and preventing the development of ocular disease. "You never know what you are going to find. The reasons for a patient coming to visit can range from simply wanting to update their glasses or contact lenses, to being referred by their family doctor because of a diagnosis of diabetes or a child complaining of headaches when reading," she explains.
Before joining SUNY Optometry this summer, Dr. Calderon-Villanueva spent a decade working at Fromer Eye Centers. Her time there prompted her to create a College-affiliated residency program in 2012, which is the professional accomplishment of which she is most proud. "I thought about what a great place Fromer would be for residents to see patients, due to the high volume and diversity of interesting cases of ocular disease that presented to the practice," she says of the program, which also allows residents to learn about different aspects of practice management. "It's currently the only ocular disease residency program in the state of New York that takes place in an OD/MD private practice setting."
When she's not creating new programs or extolling the virtues of primary care service, Dr. Calderon-Villanueva likes to visit parks, zoos and museums with her husband and two young children, who benefit from the lessons that guide their mom through her days: "Work hard, always try to strive for excellence and never underestimate your ability to do great things."