The director of residency education is honored with the Iron Mike award for her innovative work in neuro-optometric rehabilitation.
For those who know Dr. Diane T. Adamczyk, her dedication to the role of director of residency education for SUNY Optometry should come as no surprise. She barely remembers a time when she didn't know she was destined for academia.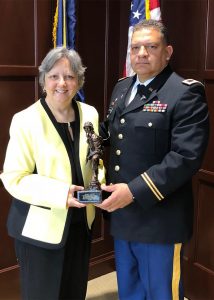 "I have wanted to teach since I was a young child," says the Pennsylvania College of Optometry alumna. "In college, as a biology major, I thought I was going to go on and get a PhD and teach in a college. But at a health fair day, a grad from my college came and talked about optometry. I realized I could teach and provide health care to patients through the profession." She was sold.
Dr. Adamczyk joined the College in 1986, starting as an assistant clinical professor and holding various roles including chief of the primary care optometric service. More than 30 years later, she is still excited to be here.
"SUNY Optometry's community is a family. It is an honor to be a part of it. And one of the important and exciting things about being a part of the community is the opportunity to contribute—to our students, our patients, our profession and healthcare," says Dr. Adamczyk, who is a native of Clifton, New Jersey. "Our residencies have always been in the forefront and a leader in residency education. How wonderful to be a part of a community that has individuals and leaders who strive to make a difference."
And that residency education leadership is key. In 2016, Dr. Adamczyk launched an affiliated residency program in neuro-optometry at Womack Army Medical Center. It is the first program within the Department of Defense to teach military optometrists how to support and rehabilitate wounded warriors with acquired brain injuries.
In June, Army colonel Dr. Jose E. Capo-Aponte, who received his M.S. and Ph.D. from the College, presented Dr. Adamczyk with the Iron Mike Award in recognition of her dedicated leadership. "The Iron Mike award is truly one of my most cherished awards; to be a part of this important endeavor has been a tremendous honor," she says. "I feel great fulfillment just knowing that being a part of establishing the first neuro-optometric rehabilitation residency in the military will provide care to our soldiers with head injuries and trauma that they were not receiving. The impact on these soldiers' lives will be tremendous."
Her visionary work with that program is just one of the reasons she likes to say she has "the best job in our profession."
"If you look to residency education, you look to where the future of optometry is going," Dr. Adamczyk explains. "Being the director of residency education also allows me the opportunity to work with both a dedicated group of residency supervisors and a bright, dedicated group of residents. What a privilege to be a part of that."
Outside of her work with the College, Dr. Adamczyk serves as chair of the American Optometric Association's Evidence-Based Optometry Committee, which creates policy and clinical guidelines. She also enjoys spending time with her family and traveling extensively, making stops all over the world.