Degrees Will Be Awarded During 2022 Commencement Ceremony On May 26th
State Senator Jamaal Bailey Will Give 2022 Commencement Address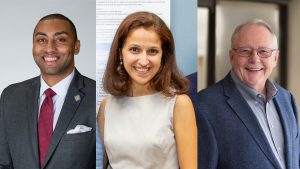 New York, NY – The State University of New York (SUNY) College of Optometry today announced it will award honorary degrees during the 2022 commencement ceremonies to two distinguished professionals who have made substantial contributions to the advancement of optometry and public healthcare: former New York State Assemblymember Aravella Simotas, and Dr. Thomas T. Norton, Professor of Optometry & Vision Science at the University of Alabama at Birmingham. 
The honorary degrees will be conferred to both recipients during the College's commencement ceremony on May 26, after a commencement address by State Senator Jamaal Bailey. 
Senator Bailey co-sponsored the Orals Bill (A1921/S1519) allowing doctors of optometry in New York State the authority to prescribe certain oral medications for the treatment of eye diseases. The bill was signed into law in October 2021.
"Assemblymember Simotas is a respected and longstanding ally to our institution who fought on behalf of New York's patients every year to ensure access to high-quality care, while Dr. Norton's contributions to the study of vision science have helped us make exceptional strides in understanding the causes of nearsightedness in children, enabling his colleagues in the field to continue developing new and more effective treatments over the years," said SUNY Optometry President Dr. David A. Heath. "It is an honor to recognize both former Assemblymember Simotas and Dr. Norton, who have made such substantial contributions to the advancement of medical science and access to eye care."
Former Assemblymember Aravella Simotas represented the 36th District in Queens for a decade in the New York State Assembly. As a member of the State Legislature, Simotas created critical policies that advanced the healthcare rights and protections of New Yorkers including policies that resulted in legislation to combat sexual violence, protect the rights of workers, advance gender equality, and safeguard small businesses. Additionally, she served as an early champion of the recently passed Orals Bill. 
In 2017, Simotas' support and advocacy resulted in funding to upgrade the neuro-optometric unit within the University Eye Center at SUNY College of Optometry enhancing access for patients with brain injuries and other neurological conditions. She is continuing her vital work as the head of state and local government affairs for BNY Mellon, where she focuses on strengthening community relationships and spotlighting public sector needs.
Dr. Thomas Norton is a graduate of Yale University, where he received his Bachelor of Arts in Psychology. He received his PHD in Psychology (Neuroscience) from UCLA and completed his postdoc at the University of Pennsylvania in Neurophysiology. 
Regarded as one of the most active and productive contributors to experimental and clinical myopia (nearsightedness) research, Dr. Norton's over thirty-year career produced a distinguished body of work on the causes of nearsightedness in children. His lab discovered a feedback mechanism in human development that uses refractive error postnatally to adjust eye growth, producing eyes in good focus (emmetropia). As Professor Emeritus, Dr. Norton uses his accumulated knowledge of the emmetropization mechanism and his research to help colleagues learn why so many children become nearsighted. 
Dr. Norton has authored nearly 100 publications, including 25 publications based on the long-term longitudinal Correction of Myopia Evaluation Trial (COMET) cohort, alongside more than 130 abstracts and 148 presentations. His work has received recognition from vision research and care organizations across the world, including the Helen Keller Eye Research Foundation, the National Eye Institute, and more.
The SUNY Board of Trustees votes and grants approval for all honorary degree recipients.
FOR IMMEDIATE RELEASE: April 20, 2022
MEDIA CONTACT:  Dawn Rigney | communications@sunyopt.edu | 212-938-5600
###
About SUNY College of Optometry
Founded in 1971 and located in New York City, the State University of New York College of Optometry is a leader in education, research, and patient care, offering the Doctor of Optometry degree as well as MS and PhD degrees in vision science. The College conducts a robust program of basic, translational, and clinical research and has over 65 affiliated clinical training sites as well as an on-site clinic, the University Eye Center. The Optometric Center of New York serves as the College's affiliated philanthropic foundation securing resources to support the mission of the College. SUNY Optometry is regionally accredited by the Commission on Higher Education of the Middle States Association of Colleges and Secondary Schools; its four-year professional degree program and residency programs are accredited by the Accreditation Council on Optometric Education of the American Optometric Association. All classrooms, research facilities and the University Eye Center, which is one of the largest optometric outpatient facilities in the nation, are located on 42nd Street in midtown Manhattan. To learn more about SUNY Optometry, visit www.sunyopt.edu.