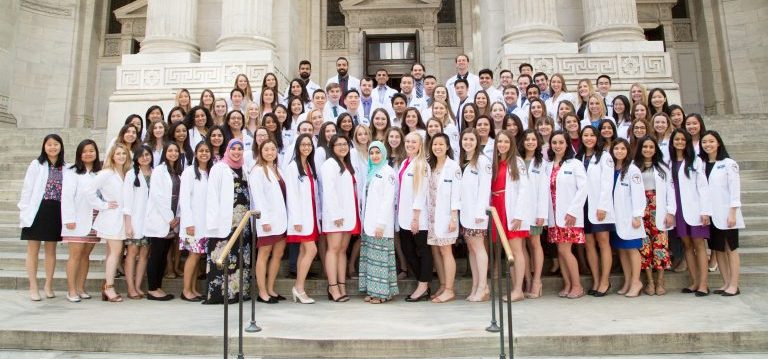 The State University of New York (SUNY) College of Optometry hosted a virtual "send-off" for 96 graduating members of the Class of 2020 on Thursday, May 21. The newly minted Doctors of Optometry represent the 49th group of students to become alumni of the College which opened its doors in 1971.
"The Class of 2020 has chosen to hold commencement sometime in the future when we can all come together to celebrate," said David A. Heath, OD, President of SUNY Optometry. "But we wanted to commemorate this day to make sure the class knows how proud we are of their individual and collective achievements."
During the online event, Dr. Heath was accompanied by fourth-year Class President, Nicole Mercho, OD, as well as SUNY Vice President and Dean of Academic Affairs, David Troilo, PhD, Chair of the Department of Clinical Education, Richard Madonna, OD, and President of the Alumni Association, Anna Marie Fernandez, OD. The online event also included a heartfelt video tribute to the graduates that featured congratulatory remarks and words of wisdom from faculty, staff, and alumni.
"We are so proud to welcome you into the SUNY Optometry Alumni Association as fellow graduates and now our colleagues," said Dr. Fernandez. "You will take the profession by storm because of all you've had to endure to get to this point. It will be you who will change the profession and people's lives for the better."
The SUNY College of Optometry Class of 2020 features a diverse group of students hailing from various socioeconomic backgrounds and regions, with unique stories to tell, yet all with the common goal of improving quality of life for others. In fact, as students they received the opportunity to interact with patients earlier than any other class that had previously trained at the College and they exceeded expectations. Now as doctors of optometry, they will be entering a healthcare environment that presents new and unforeseen challenges because of the COVID-19 pandemic.
"The pandemic will end, so don't let it distract you from your professional goals. Let it make you stronger. Let it make you better. Continue to be resilient, and always strive to make a difference in everything you do," advised Dr. Troilo.  "The world has changed, and it needs people like you – dedicated healthcare professionals who are knowledgeable, responsive, and compassionate – now, more than ever."
Out of uncertainty comes opportunity. From an increased awareness of public health issues to the telehealth movement, new clinicians can take their exposure to recent and rapid changes in patient care and apply it to help eye care delivery advance to the next level.
"Your critical reasoning skills have been honed over the last two months so that they are more advanced than any of your predecessors. You will find that these are skills needed to help practices to recover from what has occurred," explained Dr. Madonna. "You will have the opportunity to rebuild our profession and help lead it from this difficult time to a period of growth and prosperity."
The online ceremony closed with a reading of words to practice by—the Optometric Oath—led by Dr. Mercho.  "From classmates to colleagues—we did it," she declared.
For more information about the SUNY College of Optometry and the University Eye Center, please visit sunyopt.edu.
###
About SUNY College of Optometry

Founded in 1971 and located in New York City, the State University of New York College of Optometry is a leader in education, research, and patient care, offering the Doctor of Optometry degree as well as MS and PhD degrees in vision science. The College conducts a robust program of basic, translational, and clinical research and has 65 affiliated clinical training sites as well as an on-site clinic, the University Eye Center.  SUNY College of Optometry is regionally accredited by the Commission on Higher Education of the Middle States Association of Colleges and Secondary Schools; its four-year professional degree program and residency programs are accredited by the Accreditation Council on Optometric Education of the American Optometric Association. All classrooms, research facilities and the University Eye Center, which is one of the largest optometric outpatient facilities in the nation, are located on 42nd Street in midtown Manhattan. To learn more about SUNY College of Optometry, visit www.suny.edu.
For Immediate Release: May 22, 2020
Organization Contact: Adrienne Stoller, communications@sunyopt.edu, 212-938-5600