The Class of 1999 got together to relive the lessons—and the laughs—that made their time at the College so unique.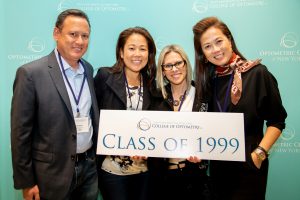 New York, October 17, 2019 — As graduates of last century, the class of 1999 has spent the past twenty years watching the world—and the eye care field—change as a result of technology that was unimaginable when they first walked in the doors of SUNY College of Optometry. But they talked about a lot more than tech at the reunion. In fact, reunion ambassador Daniel Pisacano ('99), can't fathom why his peers wouldn't show up. "If you don't already understand why it's priceless to see old friends, then you probably shouldn't come anyway," says the optometrist who practices at Walmart Vision Center in Oswego and Fulton, NY.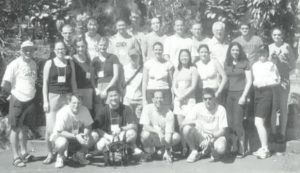 Beyond friendship, Pisacano is also looked forward to reliving cherished moments. "I have many particular memories, but what I remember most was the feeling of all 75 of us all going through the same program and being together all the time for those years," says Pisacano, whose favorite professors while he was at the College were Dr. Mark Rosenfield ("he was very welcoming into the culture of optometry") and Dr. Joan Portello ("she made us feel at home").
As a reunion ambassador, Pisacano started talking to classmates he hadn't been in touch with for years. Yet he knew nothing would compare to face-to-face time—which was what got his class through the optometry program. "My classmates were smart, which encouraged me to stay focused on doing well," he says. "But mainly my classmates made the social fabric of school fun and memorable."
For the newest alumni, Pisacano has this advice: "Learn personal finance and how to create a budget and stick to it. Making a good income is great, but it's a big waste if you mis-manage that money."
Wise words that he and his end-of-an-era classmates continue to put into use as they work to shape the future of optometry.