For Immediate Release: May 14, 2020
Organization Contact: Adrienne Stoller, communications@sunyopt.edu, 212-938-5600

What is it like to graduate as a doctor of optometry during a global health crisis?
SUNY College of Optometry Class of 2020 President Nicole Mercho shares how soon-to-be-alumni are preparing for a rapidly changing professional world.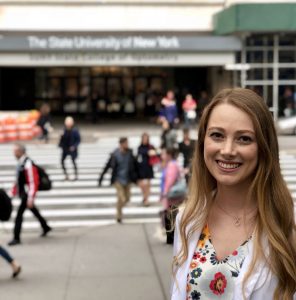 How has the COVID-19 pandemic impacted the experience of the Class of 2020?
Ironically, the year 2020 is perfect for a graduating optometry class. However, we're missing many of our special fourth-year moments—spending time together, commencement, graduation celebrations, final goodbyes. I know many of us are nervous entering the workforce without having touched an eye for months, and in this uncertain economy, as new grads. While each of our situations is different, overall, COVID-19 has been a saddening experience for us, but we are resilient and determined to finish strong.
How does it feel heading out into what will be a changed industry?
Certainly, what we knew before about optometry will soon be different. We were a profession that hardly wore gloves or masks; now, we will likely take new protocols in the exam room. Optometrists are more critical than ever in triaging emergency ocular cases. As a profession that was once wary about telemedicine, we must now start to embrace it in our future.
How has the College helped prepare the class for unforeseen upheavals?
It is scary not knowing what is to come, especially as new graduates. Thankfully, SUNY College of Optometry has kept a streamlined mode of communication, from weekly updates from the school president to virtual seminars on telehealth to teach us how to think critically with limited resources. Our Student Affairs office has made it a priority to offer online networking events and to maintain Capstone lectures such as how to find jobs, read contracts, and prepare for changes regarding billing and coding. Our clinic supervisors and instructor of record, Dr. Harriette Canellos, have worked tirelessly to ensure our virtual learning is as close to real clinic as possible and have been available at every step to answer questions and better cater to our needs. Although not physical, these updates and resources are valuable to our graduating class, and it is appreciated that SUNY has not shirked from its responsibility as an educational institution.
Members of the Class of 2020 often say that it is the connection with fellow classmates that helped them to get through the challenges of these past four years. What does this community look like now? 
Although many community-building events have been taken away this quarter due to COVID-19, we remain connected. Every year, the graduating class has a countdown to graduation by hanging baby pictures on the wall on the third floor. Our yearbook committee student-lead Cledis Ramirez and Student Council are continuing this legacy by posting the photos in our class Facebook group and the SUNY Optometry Student Instagram page. Each picture brings a smile to our faces every morning as we try to guess who the baby may be. Something as small as this reminds us we are one step closer to graduation, and we are doing this together.
SUNY College of Optometry will host a virtual send-off ceremony for the Class of 2020 on Thursday, May 21, followed by an in-person graduation tentatively planned for this fall. For more information about the SUNY College of Optometry, please visit www.sunyopt.edu.
About SUNY College of Optometry

Founded in 1971 and located in New York City, the State University of New York College of Optometry is a leader in education, research, and patient care, offering the Doctor of Optometry degree as well as MS and PhD degrees in vision science. The College conducts a robust program of basic, translational, and clinical research and has 65 affiliated clinical training sites as well as an on-site clinic, the University Eye Center.  SUNY College of Optometry is regionally accredited by the Commission on Higher Education of the Middle States Association of Colleges and Secondary Schools; its four-year professional degree program and residency programs are accredited by the Accreditation Council on Optometric Education of the American Optometric Association. All classrooms, research facilities and the University Eye Center, which is one of the largest optometric outpatient facilities in the nation, are located on 42nd Street in midtown Manhattan. To learn more about SUNY College of Optometry, visit www.suny.edu.