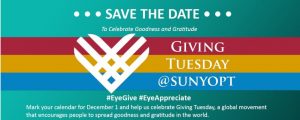 New York, NY— Join SUNY College of Optometry as we take time to pause amid pandemic challenges and uncertainty to share in the spirit of solidarity and philanthropy on Giving Tuesday–December 1, a global movement that inspires hundreds of millions of people to give, collaborate, and celebrate generosity in various ways.
How can you participate? Help us promote goodness and gratitude throughout our community and beyond when you send your own "#EyeGive Because" or "#EyeAppreciate SUNY Optometry" video/photo submission (via our social media channels). Every submission is eligible for a chance to win a College tote bag with a pair of designer sunglasses inside!
You can also show support when you follow, like, and share our social media posts (watch for our videos) and spread the word to family, friends, and colleagues. Through acts of kindness as individuals and a community at SUNY Optometry, we are meeting the needs of the moment.
For more information about the SUNY College of Optometry and the University Eye Center, please visitwww.sunyopt.edu or www.sunyopt.edu/give if you would like to donate.
November 24, 2020
###
About SUNY College of Optometry
Founded in 1971 and located in New York City, the State University of New York College of Optometry is a leader in education, research, and patient care, offering the Doctor of Optometry degree as well as MS and PhD degrees in vision science. The College conducts a robust program of basic, translational and clinical research and has 65 affiliated clinical training sites as well as an on-site clinic, the University Eye Center.  SUNY College of Optometry is regionally accredited by the Commission on Higher Education of the Middle States Association of Colleges and Secondary Schools; its four-year professional degree program and residency programs are accredited by the Accreditation Council on Optometric Education of the American Optometric Association. All classrooms, research facilities and the University Eye Center, which is one of the largest optometric outpatient facilities in the nation, are located on 42nd Street in midtown Manhattan. To learn more about SUNY College of Optometry, visit www.suny.edu.