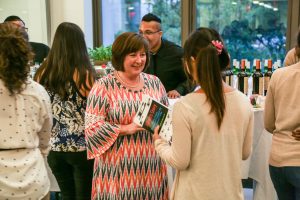 Robin Benoit had no idea her daughter Jillian had a vision problem – even though she was screened at ages 4 and 5 by her pediatrician and at school with an eye chart.
"The screenings failed my child," says Benoit, who shares her family's story to advocate for comprehensive eye exams for children across the U.S.
Eventually, Jillian, who is now in high school, was diagnosed with amblyopia. She has faced a frustrating path, including three years wearing an unnecessary eye patch, homeschooling and vision therapy.
Benoit says she would do it all again. "You go to bat for your kid. That's what moms do."
Jillian's story was shared with the SUNY Optometry community during Healthy Beginnings Start with Healthy Eyes, a lecture on the prevalence of vision problems and eye diseases in children, at the Schwarz Theater September 7. The event was co-sponsored by InfantSee, the American Optometric Association (AOA) and The Allergan Foundation.
Optometry Cares, the AOA's foundation, and The Vision Care Institute, a Johnson & Johnson company, partnered to create InfantSee in 1998. The national program is designed to ensure that vision care becomes an essential part of infant wellness. Participating optometrists provide a comprehensive eye assessment for children between 6- and 12-months of age at no cost.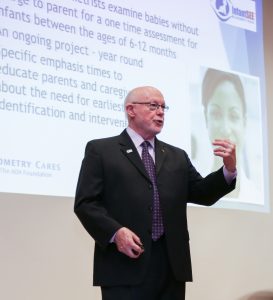 "Vision disorders are the fourth most common disability in the U.S. and the most prevalent impairing conditions during childhood," says Dr. Glen Steele, chair of the AOA's InfantSee committee. "And these problems may lead to learning and developmental issues."
Steele, who is also a professor at Southern College of Optometry, put faces to the statistics for lecture attendees, including children with retinoblastoma, hyperopia, congenital glaucoma, dislocated lenses, bilateral congenital cataracts and severe farsightedness.
He encourages young optometrists to become InfantSee providers and to "walk with your patients every step of the way."
"We have to raise public awareness," Steele says. "There are still children falling through the cracks."