Frantzis has traveled the world performing eyecare—but she believes the best work is happening right at the College.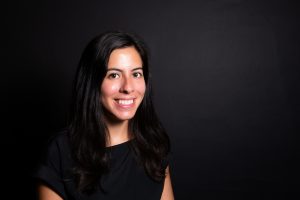 NEW YORK, August 13, 2019 — Like many optometrists, Irene Frantzis, OD, FAAO, first became interested in the field because of the time she spent at the eye doctor as a child. But though she received good care, her career path is in many ways a response to what she hoped had happened.
"As a moderate myope myself, I wish I had intervention as a child and would like to spread more awareness about the growing epidemic of myopia," says Frantzis, who has been an assistant clinical professor with the Myopia Control Clinic at the SUNY College of Optometry since 2017. "Myopia control is one of many fields in optometry where we can play an enormous role in helping our patients—even potentially preventing eye diseases such as glaucoma that have a higher prevalence in myopes."
Before Frantzis stood in front of the classroom at the College as an instructor, she was learning from behind its desks. She enrolled in the joint degree program with SUNY Optometry during her freshman year at SUNY-Binghamton, where she majored in biological sciences. She credits her time as a student with influencing her own teaching style today. "I learned the most from my preceptors who pushed me to make my own decisions, so I would like to think I challenge the students to think critically and independently. As a student it is easy to fall into the role of becoming a data collector and to have your attending make the final decision," she says.
After graduating with her optometry degree in 2016 and before coming back to teach at her alma mater, Frantzis spent a year working with the U.S. Air Force as a clinical and research optometrist investigating quality of vision outcomes in patients undergoing corneal cross-linking. She assisted one of the military branch's consulting ophthalmologists by examining his pre- and post-operative patients, in addition to performing quality of vision testing on them.
Frantzis' career is also notable for her dedicated volunteer work. In both 2013 and 2014, she volunteered with the Special Olympics, performing vision screening and dispensing eyewear to the participants. In 2014, she also traveled to Chiapas, Mexico as part of a team that examined nearly 2,000 patients. "We were there for about a week," she says. "The days were very long and the clinic was busy. It was challenging as the exams were comprehensive exams but with limited equipment and time. Despite these obstacles, it was a rewarding and humbling experience to help the people of Chiapas."
This summer, Frantzis stayed closer to home and worked mainly in the Myopia Control Clinic. It is her time there that led to one of her proudest professional accomplishments. "This clinic not only helps our patients but also helps raise awareness about the growing myopia epidemic," she says. "We as an academic institution must always be leading the eyecare field."
Media Contact: Liana Rhee, 212.938.5753, lrhee@sunyopt.edu