SUNY Optometry works to contain an increasingly common vision condition.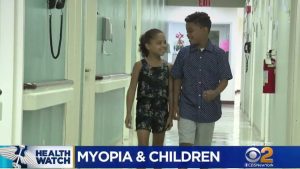 In the 1970s, one in four children had myopia, the medical term for nearsightedness. Fast forward to today and that number has jumped to 40 percent of kids—nearly one in two. Studies estimate that by 2050, half of the world's population will have myopia.
SUNY Optometry believes that while there may not be a cure for the condition, there are ways to minimize the likelihood of it getting worse. So the College opened the Myopia Control Clinic to give children immediate help and provide their parents with information they can use to make the best long-term decisions for their kids' vision. "The clinic was established at the end of last summer to treat children who either developed myopia at an early age, or whose prescription is increasing at a faster rate," says Dr. Xiaoying Zhu, the assistant clinical professor who leads the clinic.
Conventional thinking often attributes the rise in myopia to children spending an increasing amount of time looking at screens. While doctors at the clinic know this is one factor, they stress that there is actually a more complicated set of reasons for nearsightedness. "While prolonged near work (including using various electronic devices) has been shown to be associated with the increasing prevalence of myopia, there are certainly other factors involved, such as genetic factors (e.g., family history of myopia), and lack of time outdoors," says Dr. Zhu.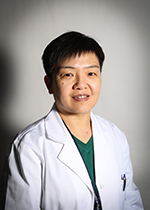 Children who visit the clinic may be fit with contact lenses, prescription glasses, atropine eye drops and even orthokeratology – contact lenses worn overnight – to help the condition. In an effort to help even more young people, the clinic recently launched an outreach effort, contacting local schools and newspapers. In August, Dr. Zhu and the clinic were featured on a televised report on myopia and children during a CBS New York "Health Watch" segment.
The clinic serves the SUNY Optometry community in another beneficial way: It provides internship opportunities for students at the College. It is, Dr. Zhu notes, a role that many have eagerly signed on to do. "[Students] play a crucial role in the clinic: They are very much involved in every aspect of patient care, from history taking, examination, contact lens fitting, to formulating assessments and plans under the supervision of the doctor."
Dr. Zhu offers one piece of timeless advice that will benefit children and adults alike: "Spend more time playing or even reading a book outdoors under the sun, and try to take frequent breaks from near work."
To contact Dr. Xiaoying Zhu at University Eye Center's Myopia Control Clinic, call (212) 938-4015 or send an email to myopia@sunyopt.edu
Media Contact: Amber E. Hopkins-Jenkins, 212.938.5607, aehopkinsjenkins@sunyopt.edu