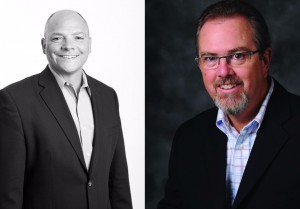 The Optometric Center of New York, the affiliated foundation of the SUNY College of Optometry, has announced that Mr. Michael Daley, chief executive officer of The Vision Council, and Mr. Jerry Warner, president, North America for CooperVision, will serve as the corporate co-chairs at its 13th Annual "Eyes on New York" gala on April 15 at The Plaza in New York City.
Mr. Daley began his optical career as an instructor with Ferris State University in 1975. Then, after serving 34 years with Essilor, he retired in 2008 as the president and COO of the organization's Lens Division. In addition to his work with The Vision Council, an organization that represents manufacturers and suppliers in the optical industry, Mr. Daley just completed his Board term with Optometry Cares – the American Optometric Association Foundation and currently holds a seat on the Illinois College of Optometry's Board of Trustees.
Mr. Warner was appointed president of CooperVision, one of the world's leading manufacturers of soft contact lenses and related products and services, in 2015. He previously served as the company's senior vice president of global marketing. Prior to joining CooperVision, Mr. Warner spent 17 years at Bausch + Lomb. His leadership and successes have been recognized at the highest level, including twice receiving the CEO Award.
The "Eyes on New York" gala is one of the most anticipated events on the optometric community's calendar and a major fundraiser for the OCNY which is celebrating its 60th anniversary this year. The honorees for the gala are Mr. Brent Saunders, the CEO and president of Allergan, and the employees of Walman, represented by its CEO, Mr. Martin L. Bassett.
"We're very proud and honored to have such a great lineup for this year's gala," Ms. Ann Warwick, executive director and secretary of the OCNY and vice president for institutional advancement at SUNY Optometry said. "Our honorees and corporate co-chairs are giants of our industry and we're fortunate that they will be with us to help celebrate this great milestone for our organization."
For more information about the gala, visit www.sunyopt.edu/gala