ALBANY, April 6, 2017 — Karen Levy and Derek Radich received the SUNY Chancellor's Award for Student Excellence on Wednesday, April 5 at the Empire State Plaza Convention Center in Albany, N.Y. The award acknowledges students' distinguished achievements and is the highest honor bestowed upon a student by the University. This year, 256 students from 64 campuses received the recognition.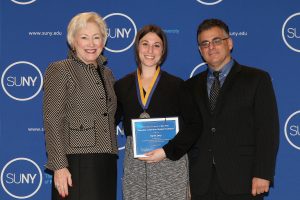 "Students selected for the Chancellor's Award have demonstrated that not only are they excellent students, but they go above and beyond – developing their talents and skills to contribute the best of themselves to their campuses and communities," said SUNY Chancellor Nancy L. Zimpher. "And their achievements reflect not only their hard work and dedication, but the support of their families and friends and SUNY's world-class faculty and staff."
Levy, a Beacon, N.Y. native, has excelled academically and will graduate as valedictorian in May. She is secretary of Beta Sigma Kappa, the optometric honor society, and serves as a tutor of class and clinic material. She has volunteered annually as a student representative for VisionWalk to fundraise for retinal research.
Radich has proven his natural leadership abilities as president of Beta Sigma Kappa. The Newburgh, N.Y. resident volunteers with Genesco First Response and provides optometric services to Special Olympics athletes. He is on the Dean's List and attended the Alcon Academy for Eye Care Excellence.
Media Contact: Amber E. Hopkins-Jenkins, 212.938.5607, aehopkinsjenkins@sunyopt.edu