FOR IMMEDIATE RELEASE: March 3, 2020
Media Contact: Abdul Sada | asada@skdknick.com | 631.827.5055
Organization Contact: Dawn Rigney | communications@sunyopt.edu |212-938-5600
Founders of Funoogles Recognized for Bringing Creativity to Children's Eyewear and Helping Children Overcome the Anxiety of Eye Conditions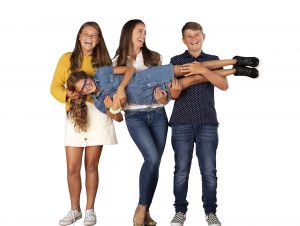 New York, NY—The Optometric Center of New York, the affiliated foundation of the State University of New York College of Optometry, will present Jessica and Ella-Jane Darcy, a Long Island mother and daughter duo and the founders of Funoogles, with the "Eyes on Rising Stars" award. The pair earned the award with the creation of an eyewear company that helps thousands of children customize their eyewear and lessen the anxiety of wearing glasses. The award will be presented at the Eyes on New York Awards Celebration on Friday, March 27th.
"This is a much-deserved recognition for both Jessica and Ella-Jane Darcy and a reminder that no one is ever too young to be innovative," said Dr. David A. Heath, president of SUNY College of Optometry. "Ella-Jane's story is remarkable and inspirational, and the entire SUNY College of Optometry community, and I applaud this incredible pair for their important work on behalf of children with impaired vision."
Ella-Jane was born with congenital cataract disease and was at risk of losing vision in her right eye. At just five years old, she had endured a procedure to save her eyesight. Wishing that her glasses would match her style and mood for the day, Ella-Jane and her mother, Jessica, created Funoogles to help Ella-Jane and other children express creativity, assert individuality, and boost self-esteem.
Proceeds from the 17th Annual Eyes on New York Awards Celebration will support optometry student scholarships and vision care for patients at SUNY Optometry and the University Eye Center. This year's event will be held on the campus of SUNY College of Optometry in Midtown Manhattan. Ticket and sponsorship information is available at www.SunyOpt.edu/gala.
###
About the Optometric Center of New York
Founded in 1956, the Optometric Center of New York (OCNY) currently serves as the college-related, tax-exempt foundation for SUNY College of Optometry and its affiliated patient care clinic, the University Eye Center. OCNY stands as an example of what partnership among visionary community leaders, educators, and businesses can accomplish. Since its inception, the OCNY has demonstrated an ongoing commitment to supporting vision care for underserved populations; educating the next generation of optometrists, including providing merit and need-based scholarships to students; and advancing research into the complex human visual system. For more information, please visit www.sunyopt.edu/give.