October 21, 2020
Johnson & Johnson executive credits SUNY Optometry for her success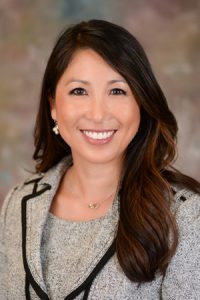 New York, NY—Ever so often, the lessons of life we teach our own children are those we need to remind ourselves to follow. This learning curve was true for Charissa Lee, OD, FAAO '02, when she faced a professional challenge that transformed her career.
"A colleague [asked] if I was interested in speaking for Johnson & Johnson Vision Care," recalls Lee, who was running a private practice at the time. She declined because she lacked experience and "dreaded" public speaking. "The doctor said if I didn't try something new, how did I know I wouldn't end up loving it? Sounds like something I tell my kids when I want them to try new types of foods!"
Lee said yes to the request. And while public speaking did not become her new passion, she enjoyed speaking to colleagues about how to elevate the optometric profession and discovered a new career as director of education at the company in 2014. This year, following six years of service, Lee was named head of North America professional affairs, responsible for professional relations, professional education, and advocacy efforts. She also oversees the Jacksonville, Fl., Johnson & Johnson Institute.
"As a student, I never thought I would be doing anything other than patient care," she says. After graduating from the College, Lee set about doing exactly what she had envisioned: a move back to California (with her husband, fellow alumnus Long D. Tran, OD, FAAO '03) and private practice. She credits the College with the professional opportunity and success she's found at Johnson & Johnson.
"SUNY Optometry gave me the foundation for the doctor I am today. Although I work for a large corporate company, I am always a doctor first. I think like a doctor, I think about patient care, and it's a critical way of thinking that I bring to my current role," she says. "It is important to support the school, so future doctors have the same (or even better) foundation that I had."
Currently, Lee is pursuing a new goal: an MBA. "I'm enjoying the challenge of stretching my brain again, although it would be even more fun without midterms and finals!"
For more information about faculty, student and alumni achievements at SUNY College of Optometry, visit sunyopt.edu.
Organization contact: Adrienne Stoller, communications@sunyopt.edu or astoller@sunyopt.edu, 212-938-5600
About SUNY Optometry
Founded in 1971 and located in New York City, the State University of New York College of Optometry is a leader in education, research, and patient care, offering the Doctor of Optometry degree as well as MS and PhD degrees in vision science. The College conducts a robust program of basic, translational, and clinical research and has 65 affiliated clinical training sites as well as an on-site clinic, the University Eye Center. SUNY Optometry is regionally accredited by the Commission on Higher Education of the Middle States Association of Colleges and Secondary Schools; its four-year professional degree program and residency programs are accredited by the Accreditation Council on Optometric Education of the American Optometric Association. All classrooms, research facilities and the University Eye Center, which is one of the largest optometric outpatient facilities in the nation, are located on 42nd Street in midtown Manhattan. To learn more about SUNY Optometry, visit www.sunyopt.edu.