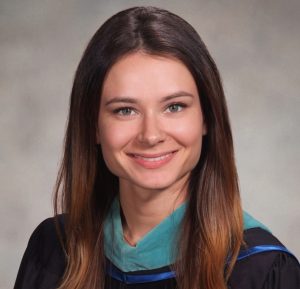 NEW YORK, N.Y. (May 21, 2020) —Born in Russia and raised in Brooklyn, Maria Klyuzner's interest in optometry began with some eye-focusing issues experienced during her sophomore year of college. Her visit to the optometrist provided more than help for her vision problem, it peaked her passion for the profession. "The doctor was a SUNY College of Optometry graduate," she recalls. As a member of the Class of 2020, Klyuzner developed an affinity for contact lenses and the complexities involved with fittings, which led her to receiving this year's Johnson and Johnson Excellence Award for Excellence in Clinical Contact Lens Patient Care. This award recognizes outstanding fourth-year student clinicians who have demonstrated skillful knowledge of the contact lens field. "It brings me so much joy to know that my work was recognized," says Klyuzner, "and that I was able to benefit someone's life or brighten up their day." As a new doctor of optometry, she intends to keep up the good work for patients and provide guidance for future clinicians as a primary care resident at SUNY Optometry.
Degree: Doctor of Optometry
Hometown: Brooklyn, New York
Undergraduate Education: CUNY Brooklyn College – BS in Psychology/Neuroscience (2016)
What draws you to optometry? With optometry, there are so many different niches to explore that it can suit all interests. You can be a doctor, a teacher, and a businessperson all in one if you want. Not to mention, if "the eyes are the window to the soul," then we are experts in getting to know our patients!
What is your fondest memory of your time at the College? The brief periods of relaxation we would get after finals were over, and everyone would go out and celebrate. If the weather were warm, we'd visit our favorite restaurant across from Bryant Park and reminisce about clinic and exams. We didn't realize how fast time would fly and how soon we would get here – doctors at last. 
How did your classmates shape your experience? My group of friends is one of my biggest pillars of support! We made the transition from students to clinicians with each other. I don't think I could have made it through optometry school without them. My experiences at SUNY College of Optometry allowed me to make life-long friendships after all the lows and the highs that we went through together.
What was your favorite course? 
It would have to be a tie between Contact Lens and Ocular Disease. Contact lens because of the intricacies that go into lens fittings and ocular disease because it taught me to appreciate how we can make a difference through understanding what underlies a disease. I enjoyed the Virtual Clinics and appreciated how our clinical supervisors were able to pull off teaching so well online!
What are your post-graduation plans? 
I will be starting a residency at SUNY College of Optometry in primary care! It will be a great opportunity to solidify my skills and keep working with outstanding professionals!
What advice would you give new students at the College?
Don't drive yourself crazy. I dealt with a lot of anxiety, especially during test times. In the end, it all worked out. There will be many moments where everything will feel overwhelming, but you have to keep pushing and remind yourself why you want this – because you truly want to help people and make a good life for yourself.