"There is always something to learn and when one listens, opportunities arise," says the Optometric Center of New York board member.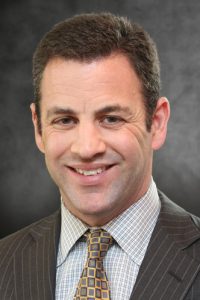 More than once in his life, Adam Sheer has taken action that led him down roads that were unimaginable—with payoffs for both himself and others.
If it were not for this pattern, he might not be on the Optometric Center of New York (OCNY) Board of Trustees. His friend and past board president Hal Spielman introduced him to the College and took him on a tour of its research, education and patient care facilities. Mr. Sheer was intrigued and impressed with the people and the work. "When asked to serve on the board, I readily accepted," he says.
Joining the OCNY board has been fulfilling for numerous reasons for Mr. Sheer, who is the co-chief executive officer for The Roosevelt Investment Group. Not only has he learned about health care, higher education and the SUNY system, but he is also a part of the College's global mission. "I am proud to be involved in educating future optometrists, as there will be a shortage of them in the near future, particularly upstate. The fact that we have extended ourselves to other countries and schools with different disciplines is innovative," he says. "The school clearly understands that the globalization of the world and the need to look beyond our industry for ideas and answers is critical to our future success." In addition, the finance expert intends to spend the next year of his time on the board recruiting new members for its trusts and estates committee.
Mr. Sheer says one of his greatest career-related moments is quite unexpected based on his resume. It is another example from his life of one action leading to a huge—and seemingly disconnected—payoff. He once was a recruiter for a company that helped people on public assistance find work. "One candidate whom I placed in a job became my friend and I drove her, her son and fiancé to Ithaca, New York, to meet her biological father," says Mr. Sheer, calling it "one of the biggest thrills of my life."
These chance occurrences were possible because of one of the guiding lessons in his life: "There is always something to learn and when one listens, opportunities arise. [So] I learned to listen and to pay attention. It is simple, but not easy to do," he says.
And through this determination to listen closely when opportunities come his way, Mr. Sheer hopes to fulfill a life goal.
"I once heard a TED talk by a Brazilian entrepreneur who took a walk in a cemetery and thought about his legacy. Then he thought, why should I care, I will be gone," he recalls. "I am interested in affecting people while I am here whether through work, philanthropy or personal contact. I believe we have more influence than we suspect. Hopefully, my actions will have positive reactions while I am here and when I am gone."