The Optometric Center of New York trustee shares why she is devoted to her work for the College.
Claudia Caruso Rouhana credits her commitment to service to an iconic moment in American history.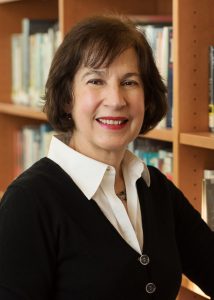 "This is very corny, but, as a 14 year old, I took President John F. Kennedy's 'Ask not what your country can do for you, ask what you can do for your country' speech straight to heart," says the Optometric Center of New York (OCNY) trustee. "I'm a big believer in grassroots work. It is our civic duty as citizens to find a way to help that also speaks to our passions."
That sense of duty brought the Malden, Massachusetts-native to the SUNY College of Optometry community in 1997. She attended the annual Eyes on New York Gala for several years as a guest of former OCNY president Hal Spielman and his wife Jackie. Mr. Spielman mentioned that Mrs. Rouhana might appreciate the foundation's mission and arranged a tour of the University Eye Center.
"I was sold as soon as I met Dr. Ida Chung and saw the work in the pediatric unit on children as young as three months," she says. "Vision is the key to the education of children."
The work also resonates with her personally. "I was 10 when I got my first pair of glasses—the world literally clicked into focus," says Mrs. Rouhana, who has lived in Port Washington, New York, since 1981.
She served as president of the OCNY board from 2004 to 2006, and today, she chairs its development committee and the successful completion of Our Vision for Children, the campaign for the new Center for Pediatric Eye Care, is her primary focus.
Mrs. Rouhana has sat on nearly a dozen boards, but her proudest professional accomplishment is her role as a founding member of The Ed. Foundation, formerly the Port Washington Education Foundation. "We enrich and enhance the education of Port's public school students by funding projects that are beyond the financial ability and scope of our school board," she explains. "Sixteen years in, we've granted over a million dollars."