From student to board member, the career optometrist continues to serve the SUNY Optometry community.
Dr. Richard Soden always wanted to help people—and by choosing optometry as the path to do so, he has bettered the lives of students, patients and countless others throughout New York City.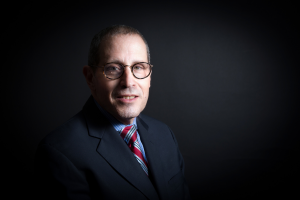 "I always thought that working with people to optimize their vision and understanding of the functioning of the human eye was a fascinating vehicle to help," says Dr. Soden, who was a biology major as an undergraduate at Brooklyn College before enrolling at SUNY Optometry in 1979.
Today, he is director of health care development for SUNY Optometry and is responsible for external affiliated programs in locations throughout New York City's five boroughs where faculty members work supplying eye care. He also deals with managed care contracts for the College and stays abreast of compliance and medical coding issues.
This is not his first role at the College since graduation. In 2003, while he was in private practice in Lake Ronkonkoma, Long Island, Dr. Soden was invited to join the Optometric Center of New York (OCNY) board of trustees. "One of the key purposes of our board is to help the community through scholarships and partnerships such as the Bowery Mission," says Dr. Soden, whose practice focuses is on primary care, low vision rehabilitation, vision therapy and head trauma rehabilitation. "I believe the board does a very good job securing funding for community programs."
In another testament to the many ways the alumnus and board member contributes to the College, Dr. Soden has been teaching optometry students and residents for 25 years and five years ago began teaching a course on optometric practice in a changing health care environment. "Optometry has dramatically changed since the day I graduated. Then, we were a drugless profession, we could not utilize diagnostic drugs to dilate pupils and perform procedures or treat eye disease. That has completely changed," says the clinical professor. "I have been teaching to make sure students are not just the best optometrists they can be, but are as ready as possible to go out, practice optometry to the full scope of licensure and earn a living."
For all of the changes in the field, there remains one constant for him. "I learned that in order to really be successful, one has to be part of organized optometry," says Dr. Soden, who has been a member in state and national organizations and is a past president of the New York State Optometric Association. "It has helped advance my career by understanding the political climate, health care climate and rules and regulations involved in health care."
Dr. Soden notes that optometrists are increasingly involved in many different aspects of serving the public including executive management positions in health care companies, research opportunities, academic careers and critical administrative positions in industry. And as the role of optometry continues to expand, he remains committed to using it to help people live better lives.