The insurance industry professional uses his expertise to boost SUNY Optometry's affiliated foundation.
Like so many Optometric Center of New York (OCNY) board members, Harold Wilshinsky came to the College via a friend who was already serving.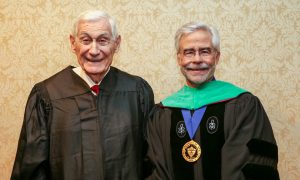 "Mal Gross, a good friend of mine, kept telling me about a medical college board he was on and how it was doing some great things," Mr. Wilshinsky explains. "He got me curious enough to accept his invitation to attend a meeting and hear and see for myself what OCNY was about. I was quite impressed and eventually joined the board." He cites the College's outreach programs as a huge draw: "The services they provide to people unable to afford it really impressed me."
The chief executive officer of KAP Planning, an insurance company, puts his more than 50 years of expertise to good use in his work with OCNY. "My role in estate and financial planning for high net worth individuals helps with regard to the benefits of philanthropic giving," Mr. Wilshinsky explains. Over the next year, he hopes to help "reinvigorate the estate planning committee." As former president of the New York City Estate Planning Council, he wants the committee to "become a force in bringing expertise in estate and financial planning to board members and their families, as well as becoming a source of fundraising."
Mr. Wilshinsky counts his role as president of the New York State Association of Insurance and Financial Professionals as the professional accomplishment of which he's most proud. These days, he splits his time between running his company, working with OCNY, keeping up with his eight grandchildren and serving on several boards and committees, including the Auschwitz Jewish Center Foundation, the Baruch College Fund, Sutton Place Synagogue and the Washington Institute for Near East Policy.