The Optometric Center of New York board member continues to innovate through the power of the press.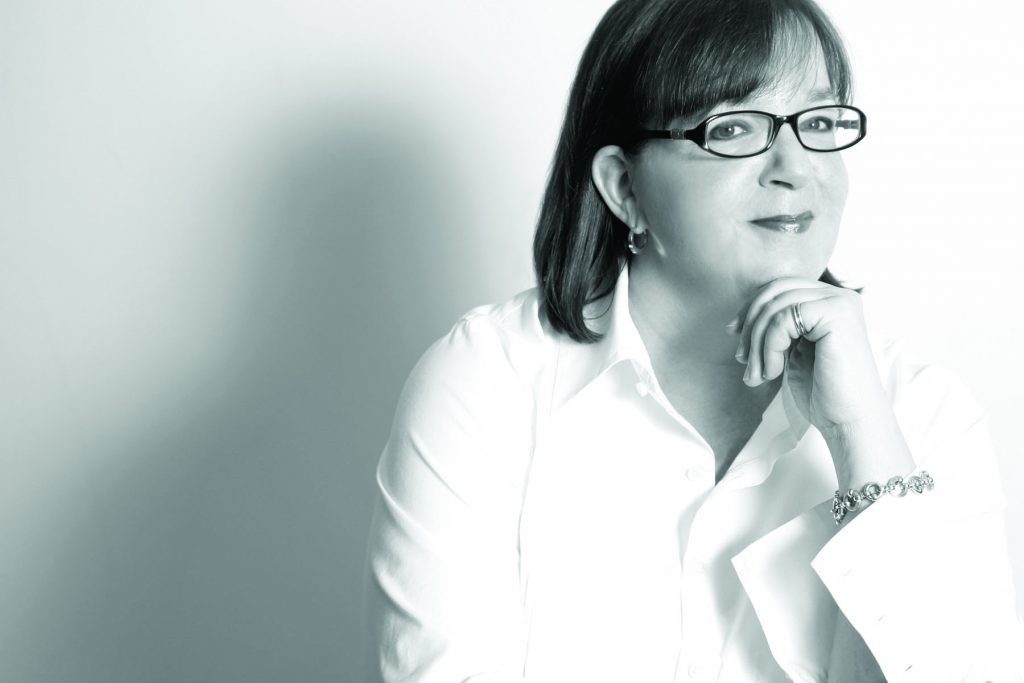 One of the optometry's breakthrough thinkers has spent zero days training as an optometrist. Yet, what Marge Axelrad lacks in medical credentials is surpassed by her knowledge of and dedication to the field. And as a member of the Optometric Center of New York (OCNY) board of trustees, she focuses this dedication on improving SUNY Optometry's already stellar reputation throughout New York City and in all of the communities it touches.
Ms. Axelrad is the senior vice president and editorial director of Vision Monday, a news platform created by Jobson Optical Group. She joined Jobson in 1988 as Vision Monday's editor-in-chief. It was an unexpected step in her professional development. "I'd been building my journalism career gradually, first as an entry-level assistant and then as writer focusing on the retail, fashion and home furnishing sectors," she says.
In the three decades that Ms. Axelrad has been with Jobson, her role—as well as her knowledge of the optometry industry—has greatly expanded. Now senior vice president and editorial director, she says, "I became intrigued by the vision care field's various connections to health care, retailing, style and technology—and its international component." Ms. Axelrad oversees Jobson's coverage of industry developments through Vision Monday, VisionMonday.com and VM's Global Leadership Summit. She is involved in various special projects such as VM Top 50 Retailers and VM's Most Influential Women in Optical, and she is also the editorial liaison for the Jobson Research Group.
Vision Monday led to a working relationship with OCNY executive director Ann Warwick. Through Ms. Warwick, Ms. Axelrad met SUNY Optometry's president, Dr. David Heath. "We enjoyed many conversations about the changing world of vision care, and, while I'm not a clinician by any means, he appreciated my knowledge about the business itself and the fast-changing dynamics of the optical industry," she says.
Ms. Axelrad joined the OCNY board after a stint on the national board of Prevent Blindness America. "I'm very happy to learn and to be involved in an institution that plays such an important role serving the community of New York, and educating tomorrow's vision care leaders," she says. "I hope to familiarize more people, particularly those based in New York with a strong commitment to socially responsible causes, to better understand the work and contributions of SUNY Optometry and the importance and relevance of vision care."
It is this belief that vision care, while vital to people's lives, is often underappreciated and misunderstood, that continues to motivate Ms. Axelrad. Her dedication has not gone unnoticed by her peers. In 2008, she was recognized by the Accessories Council with a Hall of Fame Award and last year, Ms. Axelrad was honored by Prevent Blindness as its 2017 Person of Vision.
Though her job is to report industry news, she has also made her own. In 1997, Ms. Axelrad and other industry professionals believed that the working issues that women in optometry faced were not being properly addressed through existing associations. They co-founded the Optical Women's Association (OWA), a professional development and networking group for women. "Today, OWA's membership has never been higher and the group is still expanding under new leadership and involvement from women in all sectors of the business," says Ms. Axelrad, adding that women now comprise the majority of graduates from the U.S. optometric colleges, leading to a significant shift in the dynamics in vision care and the eyewear business. "Women's voices and contributions in the workplace are being recognized, for women of all ages—this is a great thing!"
And it is her voice which continues to stand out amongst them, calling for innovation and championing change.