The former banking analyst and student member of the Optometric Center of New York board found his calling at SUNY Optometry.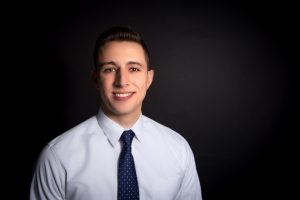 When Michael Contento graduates from SUNY Optometry in 2020, he will have had an experience unlike most of his classmates. For starters, he will be an optometrist who also knows how to navigate Wall Street. And while many students wait years—perhaps decades—to become board members for their alma mater, Mr. Contento has been a student member of the Optometric Center of New York (OCNY) board since 2016. He will hold the role until his graduation.
"I thought it would be a great way to get more involved in my profession, meet new people and learn how the endowment operates," says Mr. Contento about accepting the invitation to join the board. "The OCNY serves the school, the student body and its patients, but most board members are not optometrists. By having a student present, it allows board members to gain insight into the day-to-day life at the College."
Mr. Contento believes his position as a board member has broadened his understanding of the College administration's function, particularly management and operations. He has been involved in a number of board initiatives, including the Our Vision for Children campaign for a new pediatric clinic. "I was able to see the growth of the campaign from the idea to marketing the project, funding, all the way to the architectural designs," he says.
Before Mr. Contento enrolled at the College, he was a private banking analyst for JP Morgan Chase. A finance and economics major at his undergraduate alma mater, University of Delaware, he has also worked at UBS and Citigroup. Yet the move to optometry, which may seem unexpected based on his resume, aligns with values he has had his entire life. "After working in asset management, I felt that I wanted a more rewarding career," he says. "Growing up with parents who love their jobs and who are passionate about patient care certainly inspired me. It was hard to imagine working the rest of my life in an environment that left me unfulfilled."
He now focuses on ocular disease, which allows him to synthesize all his science courses and use the information for diagnosis and treatment. After graduation, he plans to own a primary care private practice with an emphasis on ocular disease and hard contact lens fitting.