When Barbara Saltzman thinks about the College's planned new Center for Pediatric Eye Care, she knows she did the right thing in dedicating major funding for a facility that will benefit two vulnerable populations about which she shares a particular concern: children and the visually impaired. She has made a leadership gift to name the Center's reception room, a colorful, welcoming space that will feature an interactive play area for pediatric patients waiting for their appointments.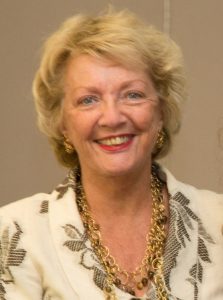 Mrs. Saltzman, board president of the Optometric Center of New York (OCNY), is herself a mother of three who has devoted her entire career to the health care industry. In 1999, after selling her New York City-based contract pharmaceutical sales firm, she left the world of business for service on the boards of nonprofit organizations and discovered she had a passion for vision-related causes. After serving on several other boards, she was introduced to the OCNY and learned of the eye and vision care, education and research conducted at SUNY Optometry. The result? Mrs. Saltzman joined the OCNY board in 2008 and was named president in 2015.
"I've seen for myself how much of an impact vision has on the quality of life for children, including my own granddaughter. At OCNY, we're well aware of the effect that has on their social, cognitive and academic growth, and that's why the University Eye Center (UEC) sees anyone – regardless of ability to pay. I'm enormously grateful to President Heath whose record of accomplishment inspires not only me, but a totally committed board of trustees who are passionate about the UEC and its goals and achievements.
A native New Yorker who earned a Bachelor of Science degree from the College of New Rochelle, Mrs. Saltzman eagerly anticipates the opening of the new Center for Pediatric Eye Care: "We've already got a staff of truly first-rate doctors and now we'll have room for more. They'll be able to serve a larger population of children with state-of-the-art equipment with which to conduct ongoing research. When I think about it, it's really extraordinary."