Dr. Anna Marie Fernandez on how accepting challenges, giving back and the power of mentorships made her a better optometrist.
Many speak about the power of giving back. But most do not embody it as thoroughly as Dr. Anna Marie Fernandez, the new president of SUNY Optometry's alumni board of directors. From her decision to become an optometrist to her decades of practice to her post-graduate roles at the College, Dr. Fernandez is a testament to why looking back can take you forward in the best way possible.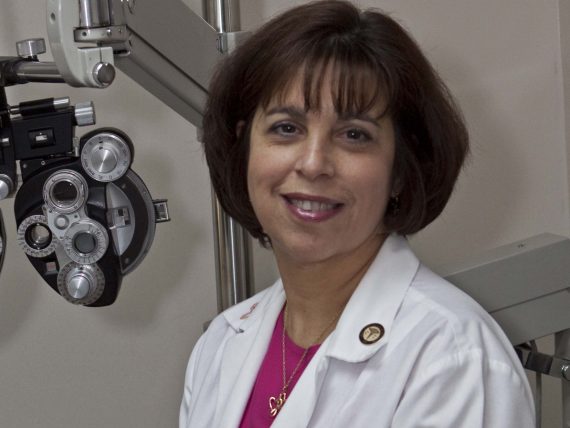 As a little girl growing up on Staten Island, Dr. Fernandez had severe esotropia. After bilateral strabismus surgery failed, her esotropia worsened, leading to more surgery and finally amblyopia patching by age five. "In the end, I 'looked' cosmetically straight, but still had amblyopia," she says. "But because I always had trouble with my vision, I wanted to help others to see the best they could."
This desire reawakened when Dr. Fernandez was a high school chemistry and physics teacher. Her best friend's fiancé enrolled at SUNY Optometry and she became intrigued. "After speaking about her studies, I knew that was the career for me. She made it sound so enticing that I could not imagine going anywhere other than the College," Dr. Fernandez said. And so she left her classroom as a teacher and re-entered another one as a student. She found a mentor, a woman who was three years ahead of her and whose "positive, calming force" kept her from being completely overwhelmed. "I am still friends with Dr. Laura Pensi Halloran 36 years later," she says.
It is at this point that Dr. Fernandez's story begins to go full-circle. First, having experienced that positive mentor-mentee relationship, she became one herself. In 2017, Dr. Fernandez was named Best Mentor of the Year by the College. "Mentoring is extremely important," she believes. "The best thing I do for my mentees is be supportive, and really listen to their concerns. I assure them that they will succeed and SUNY Optometry will give them all the tools they need to be competent, successful optometrists."
In another nod to her past, the former child optometry patient now helps children as an optometrist with the Board of Education, through the New York Department of Health and Mental Hygiene. "We go to schools in underprivileged areas with our trial lenses, ophthalmoscopes, eye charts and any other optometric tools we can carry," she says. "We perform eye exams on children who may not have means or opportunities to have one otherwise. They are supplied eyeglasses based on the prescriptions that we find by grants from frame companies. Although it's challenging, it is extremely rewarding."
Now, in this newest example of giving back, Dr. Fernandez returns to SUNY Optometry as president of the College's alumni association, 32 years after graduating. The former high school class president and class vice president when she was a student at the College says, "I always loved school, so being involved in the alumni association helps me contribute and stay connected." During her tenure, Dr. Fernandez—who recently sold her private practice of 28 years and ended 2017 with an expedition in Antarctica—plans to hold more events and grant more awards to strengthen the connection for other graduates. "Optometry has been very good to me, and I want to give back to the profession, school and community."