Providing faculty mentorship and support for first year students, the program aims to usher in better grades—and better optometrists.
SUNY Optometry prioritizes student success. Yet even with dedicated faculty and administrators, there are still some new students whose transition into the school is difficult. To address their needs—and get them on the road to achievement—the College has launched a new student advising program.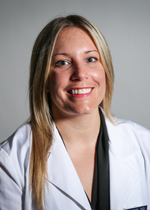 The program aims to enhance the didactic and clinical success of SUNY Optometry students through coaching, mentoring, tutoring and advising from faculty members. "Our goal is to identify students who require additional support early and provide them with educational and psychosocial support throughout their academic and clinical careers," says Dr. Kim Poirier, an academic advising coordinator for the program.
While it's too early to document success stories, the ultimate goal is for the program to actually make itself obsolete. "If successful, we aim to have the number of students in our clinical remediation program decrease over time," says Dr. Poirier, who is joined by fellow academic advising coordinators Dr. Ann Beaton and Ms. Focrun Nahar.
A more immediate marker of achievement will be an increased number of students doing well in another SUNY Optometry program, Clinical Enhancement. "With the goal of early intervention and mentorship, we hope to create a seamless transition for our students from the classroom to clinic in their third year," Dr. Poirier explains.
It is a goal that Dr. Julie Appel, a professor in the clinical program, shares. "Our hope is that the advisement program will result in deeper learning and robust knowledge base for our interns—but will also help to identify those who struggle with organization or other soft skills like communication for early intervention," she says.
In essence, the program will take the best of what SUNY Optometry already offers—a supportive learning environment for students, including those who suffer early growing pains—and formalize it into a structured plan. And Dr. Poirier sees the benefits as reaching far beyond a student's first year. "By developing a strong didactic and psychosocial base, we will be able to ensure a well-rounded and well-adjusted student-clinician," she says.