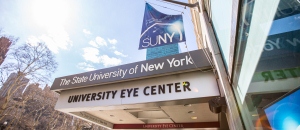 As it prepares for the future, the University Eye Center has invested over a million dollars to develop a series of electronic solutions that will enable the clinic to manage its patient care activities more efficiently. The new system, which came online June 1, includes a new electronic health records system that allows health information to be seamlessly and securely shared between health care providers. It also includes systems that facilitate electronic prescribing and billing for patients. Soon, an improved scheduling system and a secure portal will be brought online to provide enhanced communication between doctors and staff and patients. The new system will also enable the UEC to provide patients and practitioners with robust reports much more efficiently. In most cases, a patient visit summary can be generated on the same day of their visit.
"The UEC is investing in the latest information technology to enhance our clinical information systems, promote research studies and improve our patients' health care outcomes and experiences," said Ms. Liduvina Martinez-Gonzalez, vice president for Clinical Administration and executive director of the University Eye Center. "Accordingly, NextGen, a leader in the health information technology industry, is providing our organization with an integrated solution to securely document and access information as well as streamline our clinical and operational functions."
In addition to the electronic health record system as well as the prescribing, billing and scheduling elements, it also includes a practice management system. Once the system is fully operational it will improve collaboration and enhance coordination between providers. The new system was critical to the ICD-10 transition last October and it is compatible to Meaningful Use Objectives and Physician Quality Reporting Initiatives. It will help to improve care for patients by focusing on their outcomes as well as by providing such things as electronic prescriptions and improved and more efficient communication. In addition, advanced analytical software will enhance the care that is provided to patients with glaucoma.
The second phase of the project, which will be completed in 2016, will include the implementation of a patient portal and a picture archiving and communications system (PACS). The patient portal will create a secure avenue for communication between patients and their providers and the PACS system will enable the providers to manage patient and diagnostic data in a centralized manner.
"This is an exciting time for the University Eye Center as we work together to bring the latest technology to support and advance our mission to continually improve the care that we deliver to our patients," Ms. Martinez-Gonzalez said.