The Optometric Center of New York Welcomes Christopher J. Quinn
NEW YORK, N.Y. (November 19, 2019) – The SUNY College of Optometry's affiliated foundation will benefit from the new member's global view of the profession.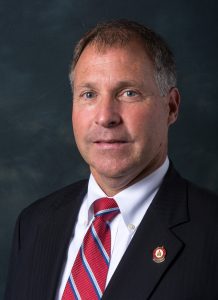 To say that Christopher J. Quinn, OD is busy is an understatement. He may be new to the College's affiliated foundation, The Optometric Center of New York, but he's not new to working in service of eye care.
Quinn is founder and president of Omni Eye Services of New Jersey, New Jersey Center for Cornea and Refractive Surgery, and Essex Specialized Surgical Institute. He's also CEO of Omni Ophthalmic Management Consultants, is on the medical staff at the Robert Wood Johnson University Hospital and is a past president of the American Optometric Association (AOA).
He's most proud of developing Omni Eye, a co-management based practice that emphasizes a cooperative and respectful relationship between the professions of optometry and ophthalmology. "Rather than fight and compete with each other, our model emphasizes how the two professions working together can deliver excellent patient care and allow each profession to practice at the pinnacle of their respective training," he explains. "It helps the profession of optometry to advance educationally and politically with advances in optometric scope of practice."
But even with all that on his plate, Quinn says it was a no brainer to accept a position on the Foundation board. "It was an easy decision. I have been familiar with the outstanding work of the Foundation from my early working relationship with Dr. Haffner, so it was an honor to be considered by the Foundation board," he says. "The longstanding stature and good work of the Foundation are well recognized in the New York OD community and beyond. The need for continued leadership to accomplish their mission made me eager to make a contribution."
He's excited to dive in, and says the best thing he can do is support the "already excellent" work of the Foundation. "The very talented current board has broad diversity and I hope my voice as an optometrist and leader within the profession will contribute to the ongoing success of the many programs run by the Foundation," says Quinn, who studied at Pennsylvania College of Optometry.
Quinn is also excited to be a part of the larger College community. "SUNY Optometry as an academic institution is somewhat unique in optometry. Although part of a large public university system, it is fiercely independent," he says. "It has a highly committed community of world class faculty, researchers and administrators that continuously produces high quality graduates, and it remains one of the most respected optometry schools in the country."
When he's not working to advance the field, Quinn enjoys spending time with the people who make him most proud: his family. "That's my wife Susan of 36 years, my daughter Kelly, who is now practicing dermatology, and my son Billy, who is currently a pilot in the Navy," he said. When he's not working, he and his wife like to ski, play golf, travel and spend time on the water. "We enjoy spending time on our sailboat, 'Panacea' during the summer months."
Quinn was elected to the Optometric Center of New York at their annual meeting in September 2019.
###
About the Optometric Center of New York
Founded in 1956, the Optometric Center of New York (OCNY) currently serves as the college related, tax-exempt foundation for SUNY College of Optometry and its affiliated patient care clinic, the University Eye Center. OCNY stands as an example of what partnership among visionary community leaders, education, and businesses can accomplish. Since its inception the OCNY has demonstrated an ongoing commitment to supporting vision care for underserved populations; educating the next generation of optometrists including providing merit and need-based scholarships to students; and advancing research into the complex human visual system. To make a donation visit www.sunyopt.edu/give or to learn more contact ocny@sunyopt.edu or 212-938-5600.
About SUNY Optometry
Founded in 1971 and located in New York City, the State University of New York College of Optometry is a leader in education, research, and patient care, offering the Doctor of Optometry degree as well as MS and PhD degrees in vision science. The College conducts a robust program of basic, translational and clinical research and has 65 affiliated clinical training sites as well as an on-site clinic, the University Eye Center.  SUNY Optometry is regionally accredited by the Commission on Higher Education of the Middle States Association of Colleges and Secondary Schools; its four-year professional degree program and residency programs are accredited by the Accreditation Council on Optometric Education of the American Optometric Association. All classrooms, research facilities and the University Eye Center, which is one of the largest optometric outpatient facilities in the nation, are located on 42nd Street in midtown Manhattan. To learn more about SUNY Optometry, visit www.suny.edu.