New Board Member Jerry Warner Continues To Pay It Forward
NEW YORK, N.Y. (November 19, 2019) — He will use his marketing acumen to maximize community outreach for the College.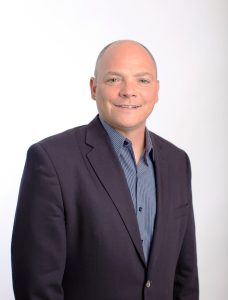 There is a quote by Winston Churchill that rings true to Jerry Warner: "We make a living by what we get, but we make a life by what we give."
Warner, who is executive vice president – president of the Americas for soft contact lens manufacturer CooperVision, hopes that these words will explain his legacy, as he strives to be a man who gave more than he got. It also explains what sparked his connection to the SUNY College of Optometry. "I became connected to the College five years ago through the Foundation's Eyes on New York event," says Warner. "As I learned more about what the Foundation does for the community, school and students, I became more interested in being a larger contributor."
This year, he was elected as a board member of The Optometric Center of New York – the College's foundation. Warner intends to spend his first year in "listening mode as much as anything else." He adds, "The experience and commitment of those already on the board is fantastic. I believe my background in the industry from a sales and marketing side provides an opportunity to share my experiences about ways of extending our reach and impact."
In 2001, the University of Rochester-Simon Business School MBA graduate entered the eye care field when he became director of marketing for the OTC Ophthalmics/Ocular Nutritionals division of Bausch & Lomb, which focused on reversing age-related ocular degeneration. Over a decade later, he left the company in his last role of senior vice president of marketing/general manager of the Global Contact Lens division.
Of the time that he left Bausch & Lomb, Warner says, "Eight years ago I had the opportunity to make a change. I chose to stay in the industry for three reasons. Our shared purpose of sight. Our commitment of giving back—the industry is incredibly giving in all facets and sectors. The last reason is there is so much more to do, we are still in the early stages of what can be done."
He moved companies, joining CooperVision in 2012 and transitioned into his current position four years later. Warner brought with him a lesson he learned earlier in his career, one which sustains him daily. "If you don't take the time to learn and know what your customer or patient needs, you have a very low probability of being successful. It's easy to get distracted from that mission during the day-to-day requirements of running a business," he says. "You need to continually challenge yourself and the teams you work with to keep their focus outward (on the customer) versus inward (on the company)."
This belief doesn't only work at CooperVision, it also applies to the College. "Keeping our focus on the needs of eye care patients is what is most critical. The question, in my mind is, 'do we understand how patients want to receive their care and services?' Staying on top of this means SUNY Optometry will be better prepared to meet the needs of the community and better serve their students. The students in turn will be better prepared to meet the needs of their patients."
For the Philadelphia native, meeting the needs of patients and eye care patients is also a kind of altruistic payback. "It is the opportunity to give back to an industry that has given me so much. Bringing vision health and correction to the community can be a life changing experience for those we are able to reach. I have seen the impact, not only here in New York, but globally."
###
About the Optometric Center of New York
Founded in 1956, the Optometric Center of New York (OCNY) currently serves as the college related, tax-exempt foundation for SUNY College of Optometry and its affiliated patient care clinic, the University Eye Center. OCNY stands as an example of what partnership among visionary community leaders, education, and businesses can accomplish. Since its inception the OCNY has demonstrated an ongoing commitment to supporting vision care for underserved populations; educating the next generation of optometrists including providing merit and need-based scholarships to students; and advancing research into the complex human visual system. To make a donation visit www.sunyopt.edu/give or to learn more contact ocny@sunyopt.edu or 212-938-5600.
About SUNY Optometry
Founded in 1971 and located in New York City, the State University of New York College of Optometry is a leader in education, research, and patient care, offering the Doctor of Optometry degree as well as MS and PhD degrees in vision science. The College conducts a robust program of basic, translational and clinical research and has 65 affiliated clinical training sites. SUNY Optometry is regionally accredited by the Commission on Higher Education of the Middle States Association of Colleges and Secondary Schools; its four-year professional degree program and residency programs are accredited by the Accreditation Council on Optometric Education of the American Optometric Association. All classrooms, research facilities and the University Eye Center, which is one of the largest optometric outpatient facilities in the nation, are located on 42nd Street between Fifth and Sixth Avenues in midtown Manhattan. To learn more about SUNY Optometry, visit www.sunyopt.edu.