SUNY Optometry and The Bowery Mission to open a new vision care clinic in Tribeca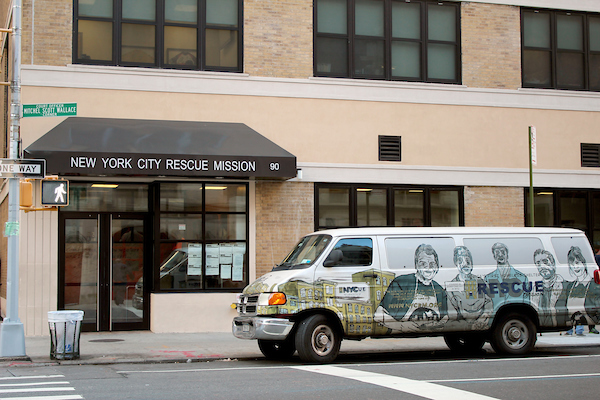 New York, NY— Nearly a decade ago, the SUNY College of Optometry began working with The Bowery Mission to offer comprehensive eye care at their two outreach locations in Manhattan. It is a successful collaboration made possible by The Optometric Center of New York (OCNY) who received a series of grants, including a contribution from the Sarah K. deCoizart Perpetual Charitable Trust, to advance the partnership to provide high-quality vision care for the city's underserved population.
Recently, The Bowery Mission joined forces with an outreach center on Lafayette Street in Tribeca to expand services and care for those in need, including a new optometry clinic opening in early 2022.
"We're very grateful for the recent support that we've received to help develop what we expect will become an important program for the College," said Richard Soden, OD, '79, OCNY board president. "Part of our mission as an institution is to help care for our community and to instill a spirit of community involvement in our students—this program will help us do both of those things."
SUNY Optometry graduate Constadina Manettas, OD, '20, who spent time in training as a public health advocate with a mission to educate and care for underserved communities, has been appointed to run the new clinic. In fact, her drive to ensure a reality for all in which healthcare is a right and not a privilege earned her the Marchon Award for Excellence in Practice Management and the Dr. Benjamin Freed Memorial Award upon graduation. She was also recognized for outreach and advocacy by the Readers Digest Partners for Sight, a foundation dedicated to improving the lives of blind and visually impaired people. "Everyone deserves the best vision possible," said Dr. Manettas.
Outreach by SUNY Optometry staff and students extends beyond the Bowery to include many collaborative public health initiatives with schools, clinics, organizations, and missions throughout our region and the world.
To learn more about SUNY Optometry community service programming and the OCNY, visit sunyopt.edu.
January 6, 2022
Organization contact: Dawn Rigney, communications@sunyopt.edu, 212-938-5600
###
About the Optometric Center of New York
Founded in 1956, the Optometric Center of New York (OCNY) currently serves as the college-related, tax-exempt foundation for SUNY College of Optometry and its affiliated patient care clinic, the University Eye Center. OCNY stands as an example of what partnership among visionary community leaders, educators, and businesses can accomplish. Since its inception, the OCNY has demonstrated an ongoing commitment to supporting vision care for underserved populations; educating the next generation of optometrists, including providing merit and need-based scholarships to students; and advancing research into the complex human visual system. For more information, please visit www.ocny.org.
About SUNY Optometry
Founded in 1971 and located in New York City, the State University of New York College of Optometry is a leader in education, research, and patient care, offering the Doctor of Optometry degree as well as MS and PhD degrees in vision science. The College conducts a robust program of basic, translational, and clinical research and has 65 affiliated clinical training sites as well as an on-site clinic, the University Eye Center. SUNY Optometry is regionally accredited by the Commission on Higher Education of the Middle States Association of Colleges and Secondary Schools; its four-year professional degree program and residency programs are accredited by the Accreditation Council on Optometric Education of the American Optometric Association. All classrooms, research facilities and the University Eye Center, which is one of the largest optometric outpatient facilities in the nation, are located on 42nd Street in midtown Manhattan. To learn more about SUNY Optometry, visit www.sunyopt.edu.