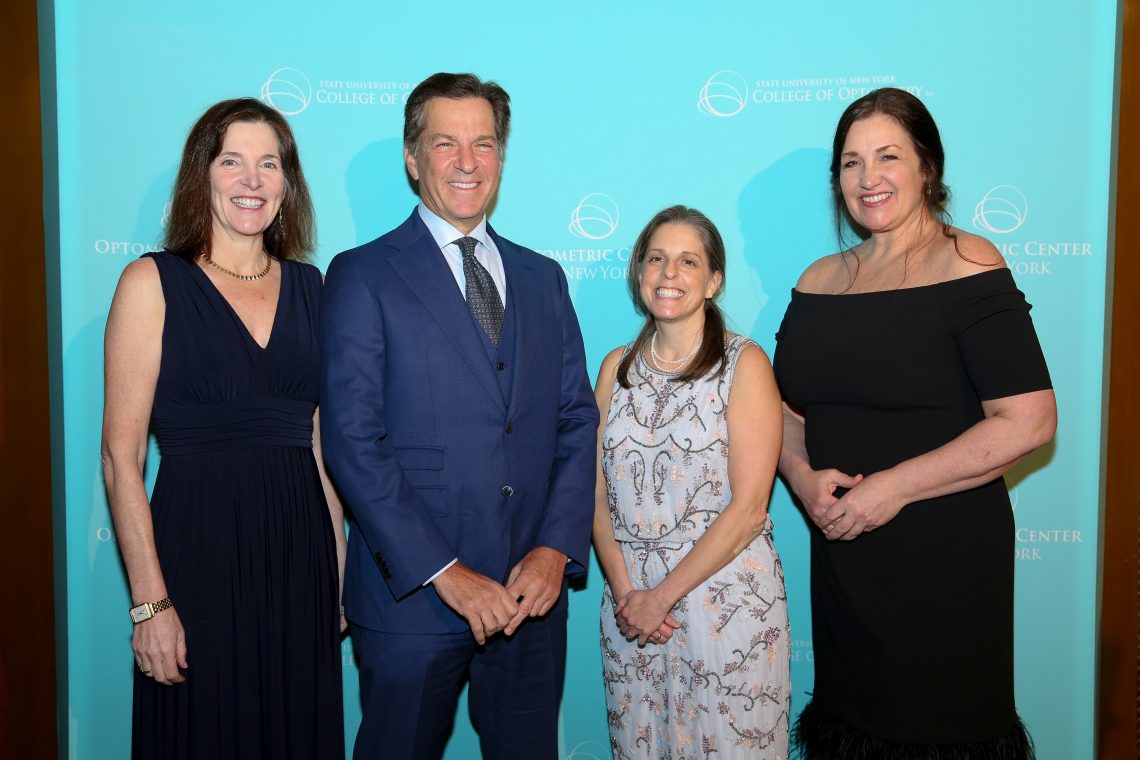 NEW YORK, March 25, 2019 — The Optometric Center of New York, the affiliated foundation of the SUNY College of Optometry, hosted its 16th annual Eyes on New York Awards Celebration on Friday, March 22 at Cipriani 42.
Drs. Susan and Mark Fromer, Regeneron and Dr. Julia Appel '91 were honored during the foundation's signature event. Dr. Max Gomez, senior medical correspondent for WCBS-TV, served as master of ceremonies.
The Fromers received the 2019 Eyes on Leadership Award for advocating for greater collaboration between ophthalmology and optometry and actively training both young MDs and ODs at Fromer Eye Centers. The siblings established a SUNY Optometry‐affiliated ocular disease residency program in 2012 to help address New York's growing demand for critical eye and vision care.
Regeneron, a leading biotechnology company, received the 2019 Eyes on Innovation Award. The company has a robust internally-discovered and developed product pipeline which has led to seven FDA-approved treatments, including EYLEA® (aflibercept) Injection, which is indicated for diseases of the retina. Dr. Kimberly Reed, Regeneron's medical director for ophthalmology medical affairs, accepted the award.
Dr. Julia Appel '91 was recognized as the 2019 Alumna of the Year by the SUNY Optometry Alumni Association. The award celebrates alumni who remain involved with the College through volunteerism and financial support, demonstrate dedication to the profession, and participate in community service and/or international missions. Dr. Appel has served on the SUNY Optometry faculty since 1992 and is an associate clinical professor. She was also an integral member of the alumni board for two decades.
More than 240 guests attended this year's celebration, which raised nearly $240,000. Proceeds from the evening will directly support patient care, scholarships and research at the College.
WATCH: SUNY Optometry | Care. Lead. Advance.
About the Optometric Center of New York
The Optometric Center of New York was founded in 1956 and is the 501(c)3 campus-affiliated foundation supporting the mission of the SUNY College of Optometry, a post-graduate institution specializing in the clinical training and professional education of optometrists and vision scientists. Its trustees raise private funds, manage the foundation's endowment and investment portfolio and conduct outreach to advance the College.
Media Contact: Amber E. Hopkins Tingle, 212.938.5607, amber@sunyopt.edu