SUNY Board of Trustees Honor and Promote Elaine Wells for Her Leadership and Transformative Effort at the College's Library – the Largest Vision Science Library in the Country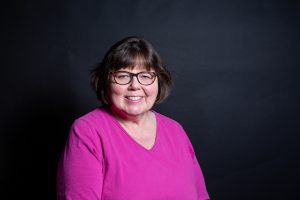 NEW YORK, N.Y. (December 19, 2019) —  The State University of New York College of Optometry announced that the Director of the College's Harold Kohn Vision Science Library, Elaine Wells, MA, MLS, AHIP, has been appointed to the rank of Distinguished Librarian, the State University of New York's highest academic rank. She joins a select group of librarians who have earned this distinction.
Wells is responsible for leading all initiatives that enhance the availability of resources and information for students, faculty, alumni, and practicing eye care professionals including overseeing the Library's recent renovation.  She has provided transformational leadership to the College's state-of-the-art library, creating one of the largest vision science collections in the world.
"Elaine's leadership has been fundamental to the incredible growth of the resources available to our faculty and students, and she has worked tirelessly to ensure the College's community can access the tools and information they need to succeed," said SUNY College of Optometry  Vice President and Dean for Academic Affairs David Troilo, PhD.  "This appointment is a testament to her leadership and dedication to enhancing access to critical resources that fuel the success of our educational, research, clinical, and social programs."
The Distinguished Librarian is a prestigious tenured University rank that is conferred upon librarians whose contributions have been transformational in creating a new information environment by providing access to information, sharing or networking information resources, and fostering information literacy. It is one of four Distinguished Faculty rank programs awarded by the State University of New York Board of Trustees. The Distinguished Academy currently comprises 429 Distinguished Professorships; 329 Distinguished Service Professorships; 395 Distinguished Teaching Professorships; and eight Distinguished Librarians.
Elaine Wells was recruited to SUNY College of Optometry as a Reference Librarian in 1997 and was quickly promoted to Library Director two years later. As Library Director, Wells has implemented innovations such as SUNYOptSearch, Patron Driven Acquisitions, a new library service platform, and collection of historical optometric equipment. Ms. Wells has provided valuable service to the National Library of Medicine's MeSH taxonomy, the American Liver Association, and the National Association of Schools and Colleges of Optometry.
Wells has also held multiple offices in the Association of Vision Science Librarians. The NY/NJ Chapter of the Medical Library Association has acknowledged her work with two Outstanding Contribution awards and a Distinguished Service award. A recipient of the SUNY Chancellor's Award for Excellence in Faculty Service, Wells has also received the Chair's Great Work Award, the highest honor given by Rutgers University School of Library and Information Science, and is also a Distinguished Member of the Academy of Health Information Professionals Medical Library Association.
###
About SUNY Optometry
Founded in 1971 and located in New York City, the State University of New York College of Optometry is a leader in education, research, and patient care, offering the Doctor of Optometry degree as well as MS and Ph.D. degrees in vision science. The College conducts a robust program of basic, translational and clinical research and has 65 affiliated clinical training sites. SUNY Optometry is regionally accredited by the Commission on Higher Education of the Middle States Association of Colleges and Secondary Schools; its four-year professional degree program and residency programs are accredited by the Accreditation Council on Optometric Education of the American Optometric Association. All classrooms, research facilities, and the University Eye Center, which is one of the largest optometric outpatient facilities in the nation, are located on 42nd Street between Fifth and Sixth Avenues in midtown Manhattan. To learn more about SUNY Optometry, visit www.sunyopt.edu.