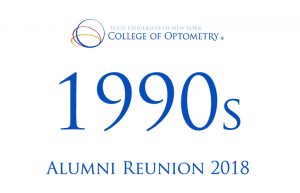 Racking up continuing education (CE) credits can be a rather boring exercise. But the 17th annual Envision NY will be anything but boring. In between courses on medical error prevention and infection control, SUNY Optometry alumni will have the opportunity to reconnect during the reunion reception created just for them.
All three reunion ambassadors for the '90s earned their degrees in 1993, so at the very least, their graduating class will be represented. But they are excited to see all of their classmates. In fact, that's why they volunteered. "I wanted to be a reunion ambassador because I've always felt the best part of attending state and national conferences was seeing and catching up with my classmates. Ambassadorship allows me to facilitate the best part," says Dr. Ken Sorkin, who specializes in pediatrics at Long Island Pediatric Ophthalmology and Strabismus.
Dr. Viola Kanevsky, who now runs Acuity NYC, says she's mostly attending because she "was promised a sash and a ceremonial dagger." All jokes aside, she is looking forward to seeing where her old friends are today. "I can't wait to catch up with my classmates and see what brilliant antics they have cooked up these past 25 years," she says.
The ambassadors all have favorite memories of the College that speak to the camaraderie they felt on campus. Dr. Kara Pasner—a low vision optometrist and professor of vision care technology at CUNY New York City College of Technology—says her best memories of involved "sitting in the lounge and schmoozing."
Dr. Sorkin says that schmoozing was also key to his experience. "My fondest memory while at SUNY Optometry was forging friendships and bonding outside the classroom. My classmates are easily 50-percent responsible for the amazing academic experience I had at the College," he says. "Whether it was the intense study sessions, torturing each other with gonioscopy and hard contact lenses or the fun of the annual Eye Ball, it was the camaraderie that got us through."
Dr. Kanevsky fondly recalls her class's first optometric conference at the Nevele Hotel in the Catskills. "It was the first time I realized seeing double could be fun with optometrists around," she says.
Of course, many formative moments happened inside the classrooms, too. When asked about her favorite instructor, Dr. Pasner says that she especially enjoyed "Dr. Jeff Cooper's enthusiasm and the excitement he brought to learning about vision therapy."
For Dr. Kanevsky, that honor goes to Dr. Robert Duckman. "He, of cartoon sweater fame, remains my idol to this day," she says. "Besides being a wonderful mentor who was endlessly patient with his students as well as his little patients, he was always easy to approach with questions. He taught me to think on my feet and be creative during exams with the most challenging of cases."
For anyone who is still on the fence about attending the CE weekend and reunion, which run from October 19-21, Dr. Kanevsky has some sage advice: "Get down. At our age, sitting on fences is just asking for a broken hip."