The accidental activist knew a fight in Florida was crucial for optometrists everywhere.
When the semester began, SUNY Optometry second-year student Danielle Mirzokandova had a clear idea of the academic year: courses, labs, homework, repeat. But in mid-September, a Facebook post changed everything. She read that Nova Southeastern University's College of Optometry (NSUCO) had received a significant philanthropic gift from National Vision, Inc., a key corporate leader in the eye care industry. As a result of the gift—which would be used for scholarships and research—NSUCO would be renamed the NSU National Vision College of Optometry. The announcement pushed Mirzokandova to log off social media and step into a brand new role for herself: student activist.
SUNY Optometry is committed to diverse perspectives and encourages students to become leaders and advocates for the profession. Here, Mirzokandova explains why questioning the influence of corporations on optometric education is important—and why victory is great, but not the end.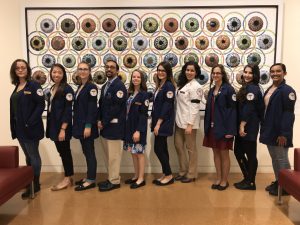 What was your initial reaction when you read about the philanthropic agreement between NSUCO and NVI?
I initially found it amusing and thought it was just a rumor. When I realized a few days later it was the reality, I became frustrated, upset, confused and extremely worried. I honestly surprised myself with how much I cared given the fact that it was a different school. I could not study at all. I found myself thinking, "How does tomorrow's Optics quiz matter if our profession is taking a huge step in what I felt was the wrong direction?"
What did you do in response?
I contacted the student at NSUCO who led their protest. He explained the entire situation to me and mentioned that he felt they needed support from optometry schools nationwide in order to be heard.
The very next morning, I went to speak to Dr. Albieri, vice president for student affairs, about how I was feeling. He let me know I was supported as a student, and it felt great to speak to someone who understood my concerns. He suggested I organize a forum to educate my classmates, and even publicly show our support if we were comfortable doing so. Dr. Albieri spoke to SUNY Optometry president Dr. Heath, who was very supportive of us students having the right to protest. I received way better feedback from our administration than I had expected, so it truly makes me grateful to be in an institution that values the voices of its students.
How did you mobilize your classmates?
I sent out a lengthy email to all four class years explaining the situation and why this does impact us. Many students responded expressing their interest in getting involved. Michelle Yakukov, a fellow second-year, took it upon herself to help me throughout this entire process.
What are some of the actions that you and the other students took in protest?
The first action was to host an informal afternoon meeting on Monday, October 1, to shine a light on the situation. The official renaming ceremony was to be held on October 9, which is why this meeting was arranged extremely last minute. This was a tough week for all the class years, so while many couldn't attend, I received a lot of questions from those who wanted to learn more. President Heath was also there to have an open discussion about the issue.
The students at NSUCO were wearing black armbands on the sleeves of their clinic coats all day as part of their civil protest and were making it public on social media. I planned to take part in the black armband movement for the week of October 1 and have interested students join, including in clinic. Approximately 70 students from all class years were eager to participate and actively post their support on social media. We never got to the point of needing to wear the bands because the deal was called off on Monday while we were meeting with Dr. Heath.
What was your reaction when you learned the gift would not be used?
I was ecstatic. Although I was very hopeful that this deal would not go through, I assumed the contract had already been made and there was no going back. I simply wanted to bring awareness to my classmates and explain why this matters. I also wanted to support my future colleagues and show them they were not alone in their fight. Our voices were actually heard and we achieved our goal! It was a huge victory, not only for NSUCO, but for every optometry student and practicing optometrist.
Although the deal was called off, there is still the larger issue of using corporate funds for optometric education.
I understand that corporations have financially supported the majority of optometry schools in some form, and I appreciate their willingness to do so. I also wouldn't have been perplexed by the deal if NSU was just renaming a lecture hall, a lab or any other room inside the building on behalf of the corporation. But to rename an entire institution after one is not such a wise decision, in my opinion. They made the claim that the curriculum would not be affected by the corporate branding, but who knows if that statement would still be valid in a few years? Also, this would have seriously tainted the public perception of optometry and the education that we receive. It is a conflict of interest. Again, I have nothing against corporate optometry being a part of the profession, and I have respect for the ODs that do work for corporations. However, it should not influence the education and clinic experience we receive as students.
Why do you think student activism is important?
As an undergraduate, I visited SUNY Optometry multiple times for open houses and "admission bootcamps." It was always emphasized that optometry is a legislated profession and that it requires passionate and dedicated individuals to fight for it. Optometry has come a long way in its brief history. When some of our professors were students, they weren't even allowed to measure patients' IOPs with Goldmann tonometry, and now here we are with several states already allowing ODs to perform minor surgeries. They received more rights and respect from the medical community by fighting for it.
It is now our turn as the next generation of optometrists to continue that fight. It is a small profession and there aren't that many of us. If we continue to stand together and unite, we will accomplish wonderful things for this profession.
Media Contact: Amber E. Hopkins Tingle, 212.938.5607, amber@sunyopt.edu