As part of its mission, SUNY Optometry, under the auspices of the Graduate Center for Vision Research, engages in a variety of basic, translational and clinical research activities. This "Research Spotlight" series is designed to briefly highlight the diversity of research that takes place at the College.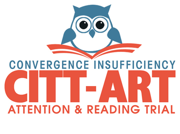 The Convergence Insufficiency Treatment Trial—Attention & Reading Trial (CITT-ART) is a clinical study being run through the College's Clinical Vision Research Center for children between the ages of 9-14 years old who have convergence insufficiency (CI), a condition where the eyes have difficulty working together while reading or doing close work. Children with CI can have eyestrain, blurred vision, headaches and the inability to concentrate. The study, which is funded by the National Eye Institute, is testing whether vision therapy can improve reading and attention in children.
SUNY Optometry is one of eight sites around the country conducting the study which is looking to enroll about 325 children in all. As of December, SUNY has randomized 22 participants into the study, making it one of the top sites in the nation.
CITT-ART's principal investigator, Dr. Erica Schulman, appeared in this report last spring from CBS New York's Dr. Max Gomez that explains more about the study:

(Video courtesy of CBS New York)
To learn more about the clinical trials that are currently enrolling, click here