When Dr. Scott Bushinger was 9 years old, his father required emergency retinal surgery. "It was kind of a dramatic, made-for-tv-movie type of moment, as he held my hand from his hospital bed while he was temporarily blinded from gauze over his eyes after surgery," he explains. "He told me how precious vision is and I listened."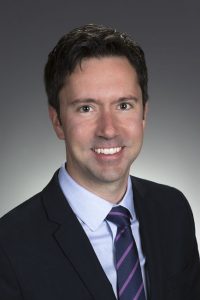 Fast forward several years to 2007, and Dr. Bushinger earned his Doctorate in Optometry and his Master's in Vision Science from SUNY Optometry. It's a good thing he got into the College, because he didn't leave himself any other options. "I actually didn't apply to any other optometry schools. I love the diversity of the school, the clinic, and the city and the optometric education is second to none."
He currently practices at Eye Consultants of Syracuse, and his passion for the field is just as strong as ever. "I love the fact that, as optometrists, we're able to have such a positive impact on our patients' lives in ways that they may not expect," he says. "Optometry is a great combination of so many aspects of health care wrapped into one profession. Some days you're forced to draw from your neurology, rheumatology and endocrinology skill sets, and other days you're fitting specialty scleral contacts so that a keratoconus patient can pass their DMV test again. It is a deceivingly complex profession and a crucial part of primary health care."
Dr. Bushinger's sub-specialty is fitting specialty contact lenses, and he's excited about the work he and his colleagues are doing. "I have the privilege of working alongside a cornea specialist, and in the past few years, scleral lenses have really changed how we approach the needs of our most challenging cornea patients," says the Utica, New York native. "I've also had the honor of caring for some of our veterans suffering from visual side-effects of TBI and post-concussion syndrome. We've had great success treating the severe photophobia and blur these patients experience by fitting them with specialty tinted contacts and prosthetic iris lenses to help them with their symptoms."
Since 2015, he has served as set leader for New Eyes For The Needy's Rockin' For New Eyes fundraising concert, which is held annually during Vision Expo East. The organization distributes free prescription eyewear to people in underserved communities both domestically and internationally. Its last show raised more than $200,000.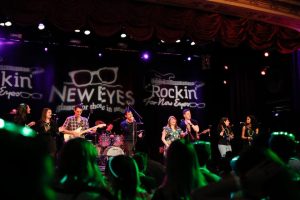 "I spent my study breaks as a SUNY Optometry student playing in a band called Punktum Remotum. It's great to see that tradition grow," says Dr. Bushinger. "I've been fortunate enough to play a small role by recruiting optometry student musicians from the College to perform during the concert. It's a lot of fun and it provides students with a unique networking opportunity… and the bragging rights."
Dr. Bushinger also works with the College's Family of Mentors Program. "It's a great way to give back to the College community and to help our new colleagues successfully transition from classroom to exam room," he says of his commitment to the program. His wife, Halina, is director of career services at Utica College, and he is happy to pass along expertise gleaned from her on resume building, job interviews and professional conduct.