Here's a look at some of the recent scholarly activities of our faculty:
Publications
Bachy R, Zaidi Q., (2016) Properties of lateral interaction in color and brightness induction.  J. Opt. Soc. Am. A 33, A143-A149.
Christian L, Oechslin T, Mitchell L, Benavente-Perez A, Handford P, Irving E, Jenewein E, Kulp M, Lyon DW, Patel R, Schnell P. TRAIn Study Group (2016) Validity of an online, self-administered symptom questionnaire in patients with accommodative dysfunction. College of Optometrists in Vision Development Annual Meeting (COVD). April. St. Louis, MO. US
Slotnick S., (2016) Novice Reviewers Retain High Sensitivity and Specificity of Posterior Segment Disease Identification with iWellnessExam. Journal of Ophthalmology, vol. 2016, Article ID 1964254, 8 pages, 2016. doi:10.1155/2016/1964254.
Tan B, Sherman J,Yannuzzi. Acute zonal occult outer retinopathy affecting the peripheral retina with centripetal progression.  Retinal Cases & Brief Reports. Accepted for publication.
Presentations
Romain Bachy and Qasim Zaidi, "Effects of lateral interactions and adaptation on color and brightness induction", presented at ECVP 2015, Liverpool (UK), Perception 44(S1) (2015)
Awards
Vision Development & Rehabilitation, the journal of the College of Optometrists in Vision Development, has named VEP and Human Attention: Translation from Laboratory to Clinic, as its "Article of the Year" for the year 2015.  The paper was authored by Dr. Naveen K. Yadav, Dr. Kenneth J. Ciuffreda, Dr. Kevin T. Willeford, Dr. Preethi Thiagarajan and Ms. Diana P. Ludlam. The award will be presented on Saturday, April 16, at the COVD Annual Meeting in St. Louis.
Dr. Alexandra Benavente-Perez was selected for the Leadership Development Program for Women in ARVO.
Lauren Wool, a doctoral student, has been awarded a Knights Templar Eye Foundation Travel Grant. These funds are to provide partial travel support to attend and present at the ARVO 2016 Annual Meeting, May 1 – 5, in Seattle, Wash.
Global Specialty Lens Symposium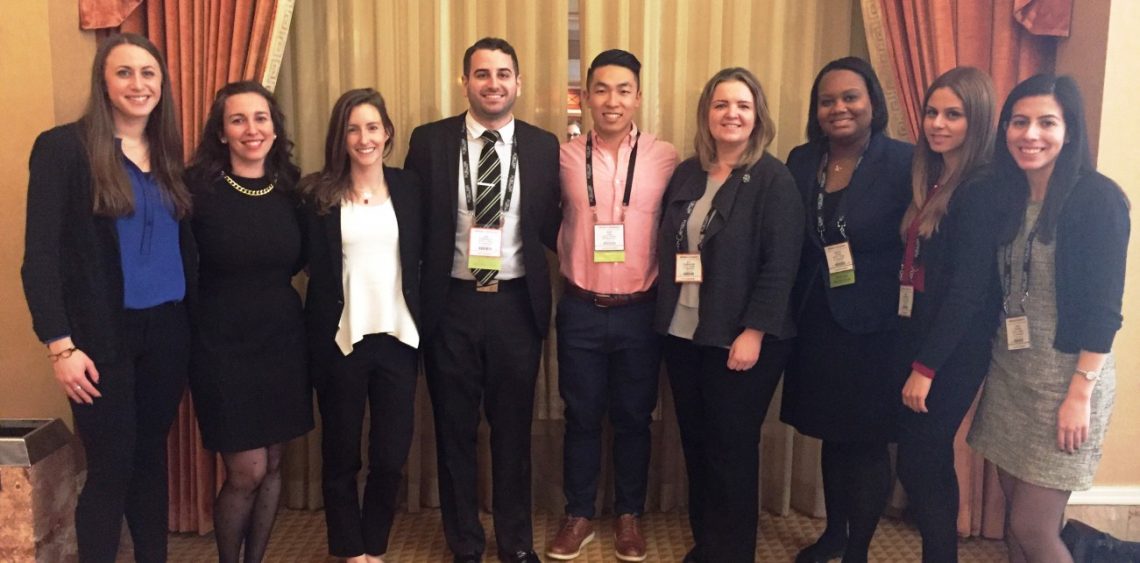 The College was well-represented at the Global Specialty Lens Symposium in Las Vegas last month where more than a thousand attendees and exhibitors from around the world convened to discuss the management of ocular conditions using the latest in specialty contact lens technology.
Faculty members, Dr. Eva Duchnowski and Dr. John Gialousakis, along with residents, Dr. Amy Steinway, Dr. Caitlin Morrison and Dr. Sarah Zuckerman and four SUNY Optometry students, presented a total of seven posters at the symposium. Faculty members, In addition, Dr. Sharon Park Keh and Dr. David Libassi co-authored posters presented at the conference, which was sponsored by Contact Lens Spectrum. To see the program for the symposium, as well as a full list of posters, click here
SUNY Academic Industry Roundtable
Dr. Kathryn Richdale and Dr. Kristen Fry represented the College at the SUNY Academic Industry Roundtable on January 27-28 at the Global Center. The event was designed to bring together the top research faculty from across SUNY's 64 campuses with industry innovators from around the world. Dr. Richdale took part in the opening roundtable discussion about clinical and translational research at SUNY while Dr. Fry took part in a roundtable discussion titled "The IRB: Finding Common Ground." To see the entire program for the event click here