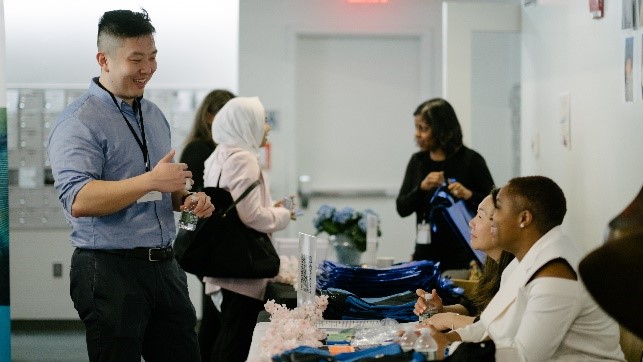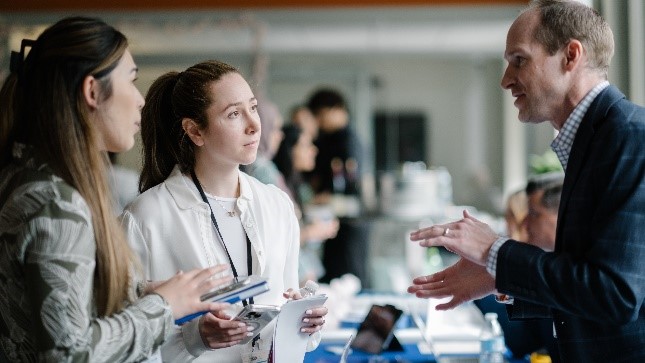 Over 30 employers bring a wealth of career advice, job opportunities, and networking to students and residents
New York, NY- The State University of New York College of Optometry Career Development Center hosted the 11th annual Career Symposium this past Sunday, April 16. The program entitled, Sights and Insights: Advancing Your Career provided students and residents a unique opportunity to learn from working professionals and network with potential employers. More than 30 employers attended the day-long event with 232 attendees registered.
After registration, the students gathered for opening remarks by Dr. Gui Albieri. "Look at the images and pictures of your past, in the present, to see what can be your future," Dr. Albieri stated as he set the exciting tone for a day of motivational workshops and networking.
SUNY College of Optometry alumna Dr. Jay Yoon, '09 followed Dr. Albieri with one of two morning workshops. She spoke to her experience as a newer OD and how the various work options in many modalities took her from a corporate placement at LensCrafters to private practice. Dr. Yoon stressed team work and the balance of being both outwardly and inwardly successful. At the same time, How to Stand Out as a Top Candidate for Your Dream Job introduced a panel of leading optometry industry recruiters: Skeet Scoville (VSP Vision), Ashleigh Dumont (Eye to Eye Careers), Dr. Michael Hosford (EssilorLuxottica), Dr. Osama Said (MyEyeDr), and Reggie Rossobillo (Warby Parker) who addressed common themes in recruiting. The panel then moved to a breakout room for smaller, more individualized sessions where they could answer questions and have more direct, one on one conversations with students.
The afternoon sessions which featured additional alumni speakers included topics such as the future of optometry with telehealth and building a niche market private practice. "Your goals may change, but your core values don't," Dr. Mikilynn Zilnicki, '13 shared during her session, while Dr. Howard Fried, '96 spoke to the recent history and ever-expanding future of tele-optometry. Dr. Frank Barnes, '86 and Dr. Tanya Carter, '87 met while attending SUNY College of Optometry and spoke to the challenges and successes they have encountered together since graduation in a session aptly entitled, 750 to 5,000 (Square feet): How We Got Here. The final topic was Non-clinical Careers for ODs, led by Dr. Megan MacMillan (Sun Pharmaceuticals), Dr. Kelly Voltz, '17 (CooperVision Specialty EyeCare), and Dr. Giovanna Olivares, '83 (Johnson & Johnson Vision Care).
The day built to the final networking session for all attendees. Throughout the session students and residents were able to speak with sponsors and recruiters, including Warby Parker, EssilorLuxottica, VSP Vision, Eye to Eye Careers, Alcon, VIP, MyEyeDr, National Vision, and Walmart as well as private practices. Even representatives from the Navy and Air Force were in attendance.  "The students are very engaging," said Dr. Astiney Franklin of National Vision.  She was joined by Emily Platto who went on to note "the great diversity" they saw at the gathering.  Dr. Aleksandra Wianecka, '02 operates three Long Island practices and has attended several of the career symposiums.  She was "thrilled and amazed to see how the event has grown over the years."  Dr. Wianecka has hired staff from the symposium in the past, and this year was excited to bring an office assistant looking to apply to the SUNY College of Optometry in the coming years.
The mix of first-time participants with returning sponsors and recruiters spoke to the ongoing popularity of the event. "It's my first time and I was very impressed with how professional the event looked and felt and how smoothly everything ran throughout the day," commented Dr. James M. Hirschfeld of Lakeland Ophthamology in Parsippany, N.J. "We do have two SUNY residents at one of our six locations in Manhattan and the Bronx," noted recruiter, Dr. Emily Topi from Fromer Eye Center. She went on to add, "Several of SUNY Optometry's top graduates have come to work for us at Fromer Eye Center." The afternoon concluded as nearly three dozen students also took advantage of the free business headshots.
###
About SUNY Optometry
Founded in 1971 and located in New York City, the State University of New York College of Optometry is a leader in education, research, and patient care, offering the Doctor of Optometry degree as well as MS and PhD degrees in vision science. The College conducts a robust program of basic, translational and clinical research and has over 68 affiliated clinical training sites as well as an on-site clinic, the University Eye Center.  SUNY Optometry is regionally accredited by the Commission on Higher Education of the Middle States Association of Colleges and Secondary Schools; its four-year professional degree program and residency programs are accredited by the Accreditation Council on Optometric Education of the American Optometric Association. Currently, all classrooms, research facilities and the University Eye Center, which is one of the largest optometric outpatient facilities in the nation, are located on 42nd Street in midtown Manhattan. To learn more about SUNY Optometry, visit www.sunyopt.edu
Contact: Rob Rosiello, communications@sunyopt.edu