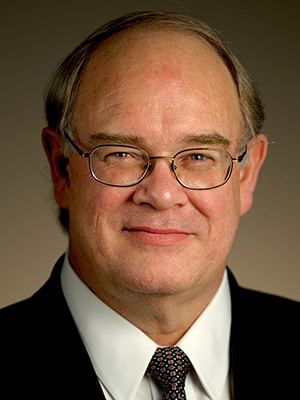 NEW YORK, February 24, 2017 – The State University of New York (SUNY) College of Optometry will recognize two distinguished professionals who have made lasting contributions in their respective fields with honorary degrees during its 2017 commencement ceremony. Dr. Paul A. Sieving, director of the National Eye Institute, National Institutes of Health, Bethesda, Maryland, will receive a Doctor of Science and deliver the keynote address; award-winning journalist Dr. Max Gomez will receive a Doctor of Humane Letters. Both honorees will join the College's 101 graduates on Thursday, May 25 at the Roosevelt Hotel in midtown Manhattan.
"Dr. Sieving and Dr. Gomez have made significant contributions to the advancement of eye, vision, and health care, one through research and the other through the education of public," said SUNY Optometry President David A. Heath. "These gentlemen personify our institutional values of excellence, leadership, inquiry, innovation, professionalism, and service to diverse communities and we look forward to honoring them in May."
Dr. Paul A. Sieving is director of the National Eye Institute (NEI), National Institutes of Health, Bethesda, Maryland. He is internationally renowned as a clinical neurophysiologist who studies the pathophysiology of genetic forms of human retinal and macular degenerations. The impetus for his work came through clinical evaluation of patients with retinal disorders using non-invasive visual psychophysics and electroretinography. The combination of clinical and laboratory investigations has led to cloning novel human disease genes and characterizing the human phenotypes.
Dr. Sieving completed an ophthalmology residency at the University of Illinois Eye and Ear Infirmary in Chicago, post-doctoral studies in retinal physiology at the University of California, San Francisco, and a clinical fellowship in genetic retinal degenerations at Harvard Medical School, Massachusetts Eye and Ear Infirmary. In 1985, he joined the ophthalmology department at University of Michigan Medical School, where he was the Paul R. Lichter Professor of Ophthalmic Genetics and founding director of both the Center for Retinal and Macular Degeneration and the Ophthalmic Molecular Diagnostics Laboratory. He was also a member of the Center for Biomedical Engineering Research and on the neuroscience and bioengineering faculty of Michigan's Rackham Graduate School before assuming the NEI directorship in 2001.
After undergraduate work in history and physics at Valparaiso University, Dr. Sieving studied nuclear physics at Yale Graduate School. He received his MD from the University of Illinois College of Medicine and a PhD in bioengineering from University of Illinois Graduate College. He is the author of 224 peer-reviewed publications and 31 book chapters and is a teacher, mentor, and advisor to many graduate students and post-doctoral fellows.  He was elected to membership in the National Academy of Medicine, USA, and the German National Academy of Science.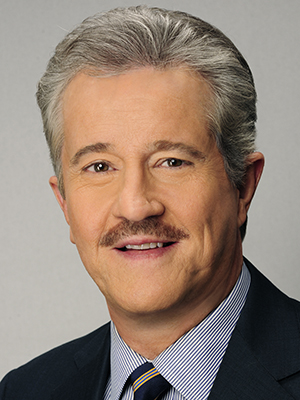 Bringing critical health issues to the attention of television audiences, Dr. Max Gomez, an award-winning broadcast journalist and a medical reporter for WCBS-TV, promotes eye and vision care as a public health issue and has showcased the College's faculty as "go-to" experts in the field.
Dr. Gomez previously served as medical reporter and health editor for WNBC-TV and health and science editor for KYW-TV in Philadelphia and WNEW-TV, the predecessor of Fox 5 New York. He has received seven New York Emmy Awards, two Philadelphia Emmys, a United Press International honor for Best Documentary for AIDS reporting, and an Excellence in Time of Crisis Award from New York City for September 11th reporting.
Dr. Gomez graduated cum laude from Princeton University and received a PhD from the Wake Forest University School of Medicine. He is co-author of three books, including The Healing Cell: How the Greatest Revolution in Medical History is Changing Your Life (2013) and Cells are the New Drugs: The Cutting-Edge Medical Breakthroughs that are Transforming Our Health (2017) and has served on the national board of directors for the American Heart Association, the Princeton Alumni Weekly, and the Partnership for After School Education.
The SUNY Board of Trustees votes and grants approval for all honorary degree recipients.
About SUNY Optometry
Founded in 1971 and located in New York City, the State University of New York College of Optometry is a leader in education, research, and patient care, offering the Doctor of Optometry degree as well as MS and PhD degrees in vision science. The College conducts a robust program of basic, translational, and clinical research and has 65 affiliated clinical training sites. SUNY Optometry is regionally accredited by the Commission on Higher Education of the Middle States Association of Colleges and Secondary Schools; its four-year professional degree program and residency programs are accredited by the Accreditation Council on Optometric Education of the American Optometric Association. All classrooms, research facilities, and the University Eye Center, which is one of the largest optometric outpatient facilities in the nation, are located on 42nd Street between Fifth and Sixth Avenues in midtown Manhattan.
Media Contact: Amber E. Hopkins-Jenkins, 212.938.5607, aehopkinsjenkins@sunyopt.edu