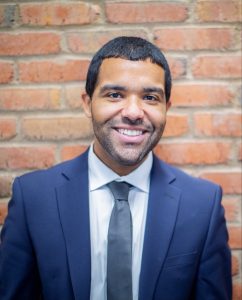 New York, NY—State University of New York (SUNY) College of Optometry is pleased to announce that Christian Alberto, EdD, Director of Admissions and Enrollment, has been named a fellow of SUNY's Hispanic Leadership Institute (HLI).  
The HLI is a leadership development program in support of the next generation of Hispanic/Latinx leaders across the SUNY system. Dr. Alberto is among 10 faculty and staff members selected from six of our university centers.  He joined SUNY Optometry over 6 years ago as the Assistant Director where in addition to executing application processes, he was tasked with promoting awareness of the profession of optometry to racially minoritized populations. Dr. Alberto continues this work while overseeing the admissions, recruitment, enrollment, and orientation strategies at the College, where he strives to ensure an equitable and inclusive process for all.
"At SUNY, we are deeply committed to fostering diversity, equity, and inclusion among our students, faculty, and staff. The SUNY Hispanic Leadership Institute opens doors for our world class Hispanic and Latinx faculty and staff so that they may advance in higher education and set an empowering example for our students from even greater heights," said SUNY Chancellor Jim Malatras. 
This intensive six-month experience is specifically designed for SUNY leaders of Hispanic descent, and provides an opportunity to focus on higher education leadership skills and competencies needed in today's ever changing academic and administrative environment.
November 5, 2021
Organization contact: Adrienne Stoller, communications@sunyopt.edu, 212-938-5600
###
About SUNY Optometry
Founded in 1971 and located in New York City, the State University of New York College of Optometry is a leader in education, research, and patient care, offering the Doctor of Optometry degree as well as MS and PhD degrees in vision science. The College conducts a robust program of basic, translational and clinical research and has 65 affiliated clinical training sites as well as an on-site clinic, the University Eye Center.  SUNY Optometry is regionally accredited by the Commission on Higher Education of the Middle States Association of Colleges and Secondary Schools; its four-year professional degree program and residency programs are accredited by the Accreditation Council on Optometric Education of the American Optometric Association. All classrooms, research facilities and the University Eye Center, which is one of the largest optometric outpatient facilities in the nation, are located on 42nd Street in midtown Manhattan. To learn more about SUNY Optometry, visit www.sunyopt.edu.