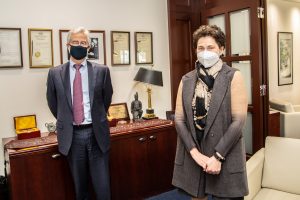 New York, NY—SUNY College of Optometry recently welcomed SUNY Board of Trustees Chair, Dr. Merryl H. Tisch, to campus to discuss the impact of COVID-19 on teaching and learning. Joining Dr. Tisch for her visit were SUNY Optometry Vice President of Student Affairs and Chief Diversity Officer, Dr. Guilherme F. C. Albieri, Vice President and Dean for Academic Affairs, Dr. David Troilo, and College President Dr. David A. Heath. 
"We were delighted for the opportunity to talk with Dr. Tisch about our challenges and accomplishments amid the pandemic, including how we have adapted new approaches to teaching and training and what we can do to maintain momentum," said Dr. Heath. "While we are still processing the full implications of the events of 2020 on education, we appreciate her support and leadership as we continue the work to ensure our students and staff have the tools, technology, and healthy learning environment needed to succeed."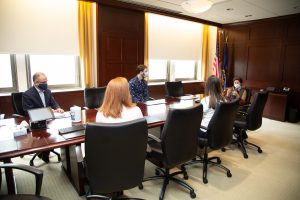 Also taking time to meet with Dr. Tisch were faculty members Dr. Harriet Canellos, Dr. Sarah Zuckerman, Dr. Patricia Modica, Dr. Suresh Viswanathan, Dr. Julia Appel, and Dr. Richard Madonna, in addition to student council president, Constantinos Bacas, '22; student council president-elect, Lindsey Boody, '23; class representative, Mackenzie Chapman, '23; and class presidents, Travis Pfeifer, '23, and Jasmine Nguyen, '24.  Their conversation covered various perspectives about online learning, such as the impact on training and student life, zoom fatigue, social isolation, mental health, and public transportation issues, including health safety and security.  
Among the nation's most influential voices on education, Dr. Tisch has dedicated a career to ensuring high-quality education for all New Yorkers, having served at the helm of New York State's governing body for education from 2009 to 2019.  As Chancellor of the New York State Board of Regents, she was responsible for setting the state's education policy and overseeing both public and private education throughout New York. Her policies were informed by years of experience in the fields of education, community service, and philanthropy, including her work as a first-grade teacher. In response to the health crisis, Dr. Tisch is focused on how SUNY can improve the student experience and support academic and personal growth.
March 23, 2021
Organization contact: Adrienne Stoller, communications@sunyopt.edu, 212-938-5600
###
About SUNY Optometry
Founded in 1971 and located in New York City, the State University of New York College of Optometry is a leader in education, research, and patient care, offering the Doctor of Optometry degree as well as MS and PhD degrees in vision science. The College conducts a robust program of basic, translational and clinical research and has 65 affiliated clinical training sites as well as an on-site clinic, the University Eye Center.  SUNY Optometry is regionally accredited by the Commission on Higher Education of the Middle States Association of Colleges and Secondary Schools; its four-year professional degree program and residency programs are accredited by the Accreditation Council on Optometric Education of the American Optometric Association. All classrooms, research facilities and the University Eye Center, which is one of the largest optometric outpatient facilities in the nation, are located on 42nd Street in midtown Manhattan. To learn more about SUNY Optometry, visit www.sunyopt.edu.