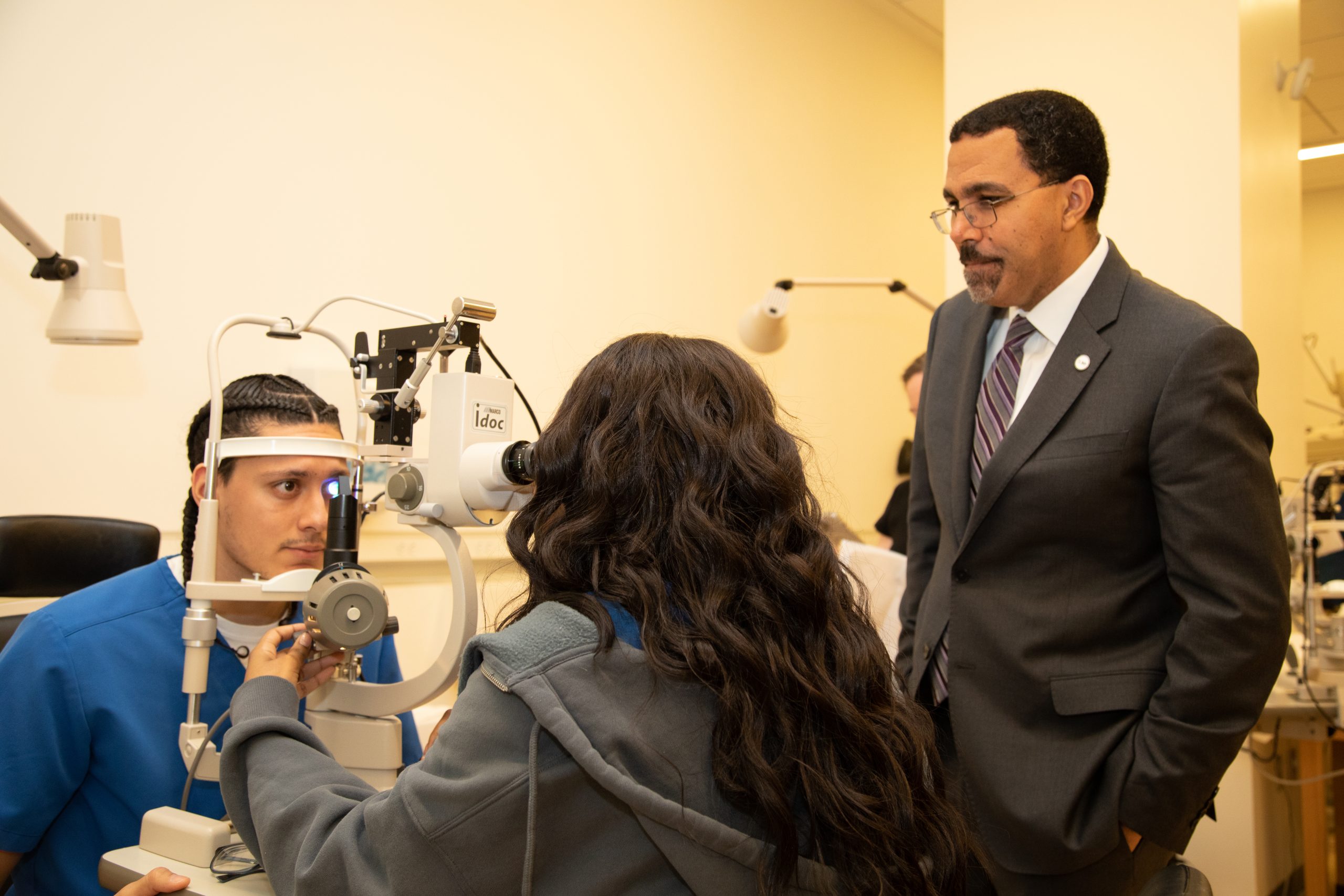 New York, NY- State University of New York (SUNY) Chancellor, John King, Jr., visited SUNY College of Optometry on Thursday, April 13 as part of his 64-campus tour. This marked the 40th campus visited. Greeted by President Dr. David A. Heath and Dr. David Troilo, Vice President and Dean of Academic Affairs kicking off a jam-packed day that included a brief tour of campus, visits with students, and a conversation with faculty and staff.
The tour of the campus included the research laboratory of Dr. Stefanie Wohl, the Clinical Vision Research Center, the Barbara Saltzman Center for Pediatric Eye Care, and the pre-clinical lab where a Contact Lens class was in session. In the Contact Lens Lab Chancellor King interacted with several students, an admittedly favorite part of his campus tours. SUNY College of Optometry students shared why they chose optometry as their medical specialty while also sharing what paths led them each to this unique and special campus. One student, in particular, noted the Summer Eye Camp and sense of community as the primary reasons he chose the College of Optometry.
This open and candid discussion continued with a more intimate round table with SUNY College of Optometry student leaders. Chancellor King posed the question, "What drew you to the SUNY College of Optometry?" Rebecca Treen and Will Doan Nyguen spoke to their experience as Canadian students, while Reynolds Ablordeppey spoke about being a student from Africa studying in Manhattan. All three students noted the great advantages of studying in Manhattan and the sense of community they have experienced during their time here. Dixie Vasquez noted that the SUNY CSTEP Program for Underserved Minorities and the SUNY faculty "really drew her attention" to the College of Optometry. Chancellor King intently listened as each of the student leaders expressed gratitude for the diversity and sense of inclusion that exists on campus. They went on to praise the diversity that can be seen from the student body to the accomplished faculty to the patient served. Rachel Kim proudly stated that when it came to choosing SUNY College of Optometry, she "made a really great decision, especially since we get to see a little bit of everything on the clinic floors."
A working lunch followed with the President's Council to further emphasize the great work happening at the college fulfilling the mission of Education, Research and Service.
The day drew to a close with over two dozen faculty and staff, including several notable SUNY alumni, gathered for an informal question and answer session. Themes of a strong community, an emphasis research, and with an overall hope for more exposure for the college overall were voiced. The Associate Director of Development, Pamela Lederman, best summed up the SUNY College of Optometry as "Relatively small, but whose impact is mighty."
To read more about Chancellor King, visit his bio here.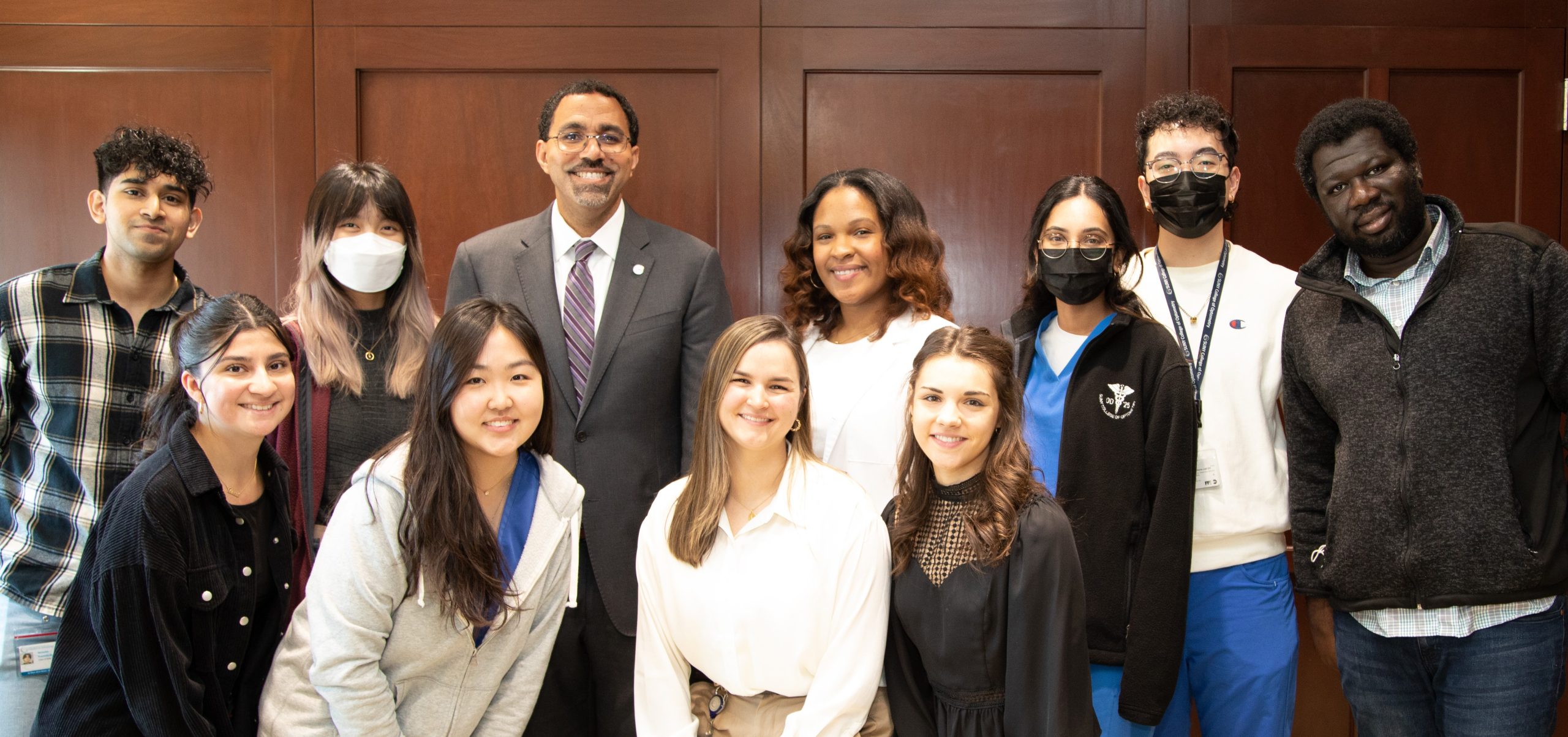 For Immediate Release: April 14, 2023


About SUNY Optometry
Founded in 1971 and located in New York City, the State University of New York College of Optometry is a leader in education, research, and patient care, offering the Doctor of Optometry degree as well as MS and PhD degrees in vision science. The College conducts a robust program of basic, translational and clinical research and has over 68 affiliated clinical training sites as well as an on-site clinic, the University Eye Center. SUNY Optometry is regionally accredited by the Commission on Higher Education of the Middle States Association of Colleges and Secondary Schools; its four-year professional degree program and residency programs are accredited by the Accreditation Council on Optometric Education of the American Optometric Association. Currently, all classrooms, research facilities and the University Eye Center, which is one of the largest optometric outpatient facilities in the nation, are located on 42nd Street in midtown Manhattan. To learn more about SUNY Optometry, visit www.sunyopt.edu
Contact: Rob Rosiello, communications@sunyopt.edu