ALBANY, July 11, 2017 – State University of New York Chancellor Nancy L. Zimpher announced the names of 361 faculty and staff from throughout the university system as recipients of the 2016-17 Chancellor's Awards for Excellence, including SUNY College of Optometry's Dr. Steven Schwartz and Ms. Gaea Austin.
The Chancellor's Awards for Excellence are presented annually to faculty and staff in seven categories: Faculty Service, Librarianship, Professional Service, Scholarship and Creative Activities, Teaching, Adjunct in Teaching, and Classified Service. The honor provides system-wide recognition for consistently superior professional achievement and encourages the ongoing pursuit of excellence.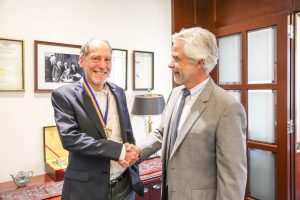 "The strength and impact of SUNY is powered by expert faculty and staff from throughout our 64-campus university system, and the 361 individuals receiving this year's Chancellor's Award for Excellence are the best among the best," said Chancellor Zimpher. "They are at the top of their game in providing their institution and students with the highest quality of instruction, professionalism, and support. It is my great honor to celebrate the achievements of this year's recipients."
Dr. Schwartz, who received the honor for teaching, is a professor in the College's Department of Biological and Vision Sciences and director of institutional research and planning. He previously served as vice president and dean for academic affairs. He teaches integrated optics, visual function, ocular disease, contact lenses, and personal financial planning for new optometrists.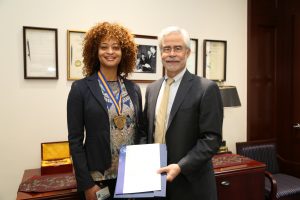 Ms. Austin, who received the honor for professional service, serves as both the College's environmental health and safety officer and assistant internal control officer. She develops, implements, and oversees environmental, health, and safety programs that will positively impact working and learning conditions at the College and ensures compliance with all regulatory mandates.
"Both Dr. Schwartz and Ms. Austin are committed to excellence in everything they do," said SUNY Optometry President David A. Heath. "We congratulate them and appreciate their professionalism and leadership."
A complete listing of this year's honorees is available online.
Media Contact: Amber E. Hopkins-Jenkins, 212.938.5607, aehopkinsjenkins@sunyopt.edu