Over 90 graduates earn degrees with Tweedy, Cepko as honorary recipients
Keynote address given by NYS Assemblymember Paulin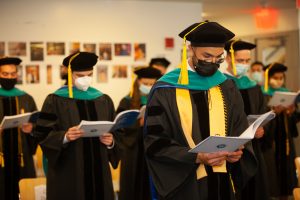 The State University of New York (SUNY) College of Optometry held its 47th commencement on Thursday, May 20th, for 94 students who became doctors during an on-campus hybrid ceremony featuring pre-recorded elements and live stream presentations. Founded in 1971, the College proudly marks its 50th anniversary this year.
The 2021 SUNY Optometry graduation represented not only the transition from training to professional life for aspiring students but also a milestone moment for the entire College community, who worked together to elevate study and service to patients during an unprecedented time in history. It was a testament to strength, optimism, and renewal echoed by SUNY Chancellor Jim Malatras in a video address to the Class of 2021 and by SUNY Optometry President David A. Heath, OD, EdM, in his opening remarks.
"The four years of study and training to earn the doctor of optometry degree under normal circumstances is a demanding process. But we all know that the past 15 months have been anything but normal," said Dr. Heath. "While the full impact of COVID-19 pandemic may not be fully understood for years to come, what we do know is that the Class of 2021 has been remarkable in their resilience and ongoing commitment to their education, to their patients, and one another."
Class President Sherry Shang, OD, followed with words of gratitude for the support provided by the diverse College campus of professionals, resources, and peers. "Thank you to the entire Student Affairs team who supported us throughout our time here. There is not enough thanks to say to the entire clinical faculty who literally had to work around the clock to pivot their teaching methods last March so that we could graduate on time," said Dr. Shang. "To the Class of 2021, thank you for broadening my worldview."
The commencement keynote address was given by 88th New York State District Assemblymember Amy Paulin, a long-time advocate of the optometric profession and sponsor of legislation that will expand the scope of care to allow optometrists to prescribe oral medications to patients. "Very soon, you'll be starting your careers as optometrists. You'll be on the frontlines of the eye care profession," said Assemblymember Paulin. "You have chosen a path where you'll be essential to helping people live healthier lives. You will not just figuratively but literally be helping people to see."
SUNY Optometry honorary degree recipients for this year included Harvard-based developmental biologist and geneticist, Constance (Connie) Cepko, PhD, presented with the Honorary Doctor of Science degree, and New York Times bestselling author and Duke University School of Medicine clinician-educator Damon Tweedy, MD, recipient of Doctor of Humane Letters. The honorees accepted their awards and addressed the Class of 2021 via Livestream.
"We hold vision as our most dear sense. When it is impacted, it is quite difficult for people to accept and learn how to live with [it]," said Dr. Cepko, whose innovative research has led to major advancements in visual health, including therapies for blindness and retinal disease that have helped countless patients. "The fact that you have spent all this time learning how to help people in this regard is very impressive."
"When I look at you as new doctors, it gives me great hope that with all the challenges we have faced as a society, we are making access to healthcare more equitable," said Dr. Tweedy, whose pioneering work as a physician, professor, and writer has addressed racial disparities in the medical profession and complex social inequities in healthcare. "Being able to see a person's visual challenges within a larger place as a person, and not just seeing that person as a system or organ, is so important."
Among the College's newest alumni are two master of vision science degree recipients, one combined OD/MS, one PhD in vision science, and 16 doctor of optometry graduates who additionally completed a micro-credential program in a specialized area of vision care. Twenty-three members of the class were also recognized with awards for academic achievement, research, and service. 
With degrees in hand, the Class of 2021 will begin the next phase of their lives as professionals in multiple practice settings throughout the country and close to home, including the University Eye Center at SUNY Optometry. Said Dr. Shang to her classmates now colleagues: "I look forward to supporting each other, regardless of the physical distance between us."
For more information about academic programs, residency, and patient care at SUNY Optometry, visit sunyopt.edu.
May 21, 2021
Organization contact: Adrienne Stoller, communications@sunyopt.edu, 212-938-5600
###
About SUNY Optometry
Founded in 1971 and located in New York City, the State University of New York College of Optometry is a leader in education, research, and patient care, offering the Doctor of Optometry degree as well as MS and PhD degrees in vision science. The College conducts a robust program of basic, translational and clinical research and has 65 affiliated clinical training sites as well as an on-site clinic, the University Eye Center.  SUNY Optometry is regionally accredited by the Commission on Higher Education of the Middle States Association of Colleges and Secondary Schools; its four-year professional degree program and residency programs are accredited by the Accreditation Council on Optometric Education of the American Optometric Association. All classrooms, research facilities and the University Eye Center, which is one of the largest optometric outpatient facilities in the nation, are located on 42nd Street in midtown Manhattan. To learn more about SUNY Optometry, visit www.sunyopt.edu.