IMMEDIATE RELEASE: December 5, 2019
Contact: Office of Communications, communications@sunyopt.edu
SUNY College of Optometry Celebrates GivingTuesday with #EyeGive, joining millions around the world participating in the global generosity movement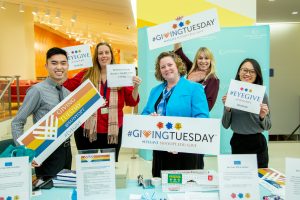 *View Thank You Video Here*
*Photos Available Here*
New York, December 5, 2019 – This GivingTuesday, which took place on December 3, SUNY College of Optometry inspired generosity and gratitude across the entire College community with the #EyeGive campaign. Nearly 100 alumni, faculty, staff, students and foundation board members participated throughout the day raising approximately $40,000 to support of all areas of the College including student scholarships and patient care.
Board of Trustee members from the Optometric Center of New York (OCNY), the college-related foundation, banded together to offer a dollar-for-dollar challenge gift in support of student scholarships leading to several new and increased donations. In addition to inspiring donations, the #EyeGive campaign also featured a Gratitude Table where those who have been impacted by the donations such as optometry students, residents, and patients could write a personal thank you to the donors. More than 60 cards were addressed to donors which will be mailed in time for the holidays.
"This show of support from the OCNY helped set the tone for the day about the impact collective gifts can have. In fact, our total is nearly double what we raised last year," said Dawn Rigney, Vice President for Institutional Advancement and Executive Director for the Optometric Center of New York. Ms. Rigney continued, "Even more importantly, the #EyeGive campaign generated a sense of community, camaraderie, and good-will – it truly was an opportunity to do good in this season of giving."
GivingTuesday was launched in 2012 as a simple idea:  to create a day that encourages people to do good. Over the past seven years, this idea has grown into a global movement that inspires hundreds of millions of people to give, collaborate, and celebrate generosity.
###
About SUNY College of Optometry
Founded in 1971 and located in New York City, the State University of New York College of Optometry is a leader in education, research, and patient care, offering the Doctor of Optometry degree as well as MS and PhD degrees in vision science. The College conducts a robust program of basic, translational and clinical research and has 65 affiliated clinical training sites.
SUNY Optometry is regionally accredited by the Commission on Higher Education of the Middle States Association of Colleges and Secondary Schools; its four-year professional degree program and residency programs are accredited by the Accreditation Council on Optometric Education of the American Optometric Association. All classrooms, research facilities and the University Eye Center, which is one of the largest optometric outpatient facilities in the nation, are located on 42nd Street between Fifth and Sixth Avenues in midtown Manhattan. For more information, visit www.sunyopt.edu or follow us on twitter @sunyopt.